PvZ: Garden Warfare PC 'Not A Port,' Apparently
Except that it kinda is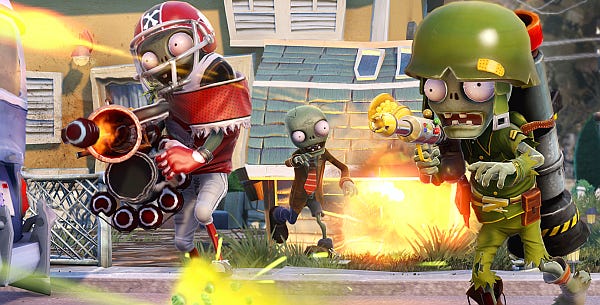 Plants vs Zombies: Garden Warfare has been out on Xbox One since February. It's still coming to PC - and soon, in a couple days, in fact - but it's awfully tardy at this point. Perhaps it was actually developed by Ents, creatures known for their gnarled hardiness and deliberate approach, but hardly their sense of urgency. Regardless, it's finally almost here now, and PopCap believes it will be worth the wait. Why? Well, for one because it's apparently not a port despite an initial console focus and how hilariously long it's taken to get out the door. Hmmm.
Here's the key bit from the video:
"It's not a port. We have so many hardcore PC gamers on our team that live and breathe PC. Everything from our UI to how our mouse-driven controls are gonna work - everything has been looked at by PC gamers."
Which does not, by definition, keep something from being a port. It keeps it from being a poor port, but unless the game's original focus was PC all you're doing is muddying up a term.
That said, I'm glad the PC version seems to have gotten proper attention. And the temporarily exclusive map is a nice, if misguided, gesture I suppose; I think something like mod support would've been better given PC gamers' priorities, not to mention mods' ability to keep players around far longer than slowly dribbled out map packs. A "TIMED EXCLUSIVE!!!!!1111" is a consolation prize in multiple senses of the word, a console-like sales menality washing up on our shores and speaking an entirely different language.
Still though, are you interested? PvZ: Garden Warfare is apparently decent, and it looks pretty fun/silly from where I'm standing. Might be worth a quick play, although a not-quite-budget, not-quite-full price of $34.99 makes it a slightly harder sell when there are so many other, more established shooters to choose from on PC.