Play WildStar With The RPS Community Guild
Playing Exiles as Rock, Paper, Snoglugs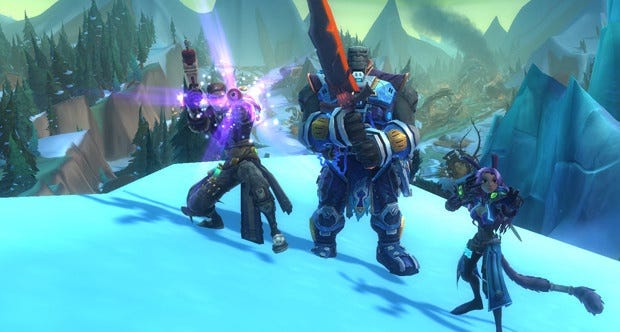 Hello, dear reader. You may think of us here at Rock, Paper, Shotgun as your cherished aunts and uncles, and we want you to know that you're our most favourite nibling. But you can't keep hiding behind our legs at family gatherings, arms wrapped around our knees, whenever one of your cousins comes by. You should play with them. Go on. They're nice. You'll like them. We're certain you'll all have a lovely time together.
Now that WildStar has opened up 'head start' access ahead of tomorrow's launch, your RPS cousins have formed a community guild to play together. Go on now, dear.
The reader-run guild is playing on the Eko server on the Exiles faction under the name Rock, Paper, Snoglugs. The Exiles are the side of humans, rockfolk, squirrel girls, and space zombies, outcasts fighting against an empire, and we shan't wonder quite what that says about you, dear readers. Nor what it means that you've named the guild by smooshing us together with a fictional genus of large snail.
Stop by the guild's forum thread to see who to pester about joining. Play nice, now.