PlayerUnknown's Battlegrounds sales pass 4 million
Never heard of it...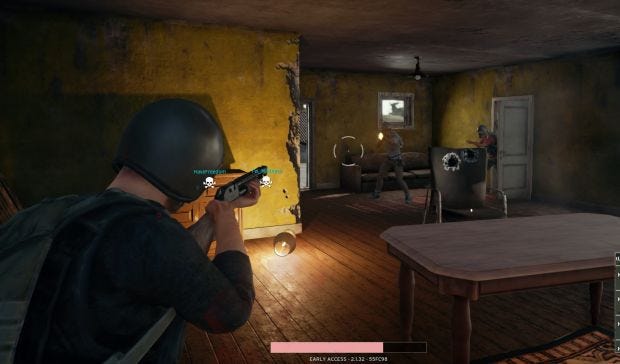 The incredible rise of PlayerUnknown's Battlegrounds [official site] continues. The early access Battle Royale 'em up has surpassed 4 million copies sold, developers Bluehole Studio announced yesterday, which is... er... a lot. The game hasn't even come out yet and it's sold more copies than Zelda: Breath of the Wild (that's at 3 million, and Link had a 20-day head-start). Pretty staggering.
Bluehole also boast that the game has hit $100m of revenue, 230,000 peak concurrent users on Steam, and 350,000 simultaneous viewers on Twitch. In case you didn't realise, these are BIG NUMBERS.
What you need to know about the game, if you intend to join the masses, is that you're dropped in to a 64 square kilometres maps with lots of other players with the aim of being the last one alive. The playable area is shrinking all the time so you can't just cower in a corner (which would be my instinct). Creator Brendan 'PlayerUnknown' Greene made Battle Royale mods for Arma before chipping in on Daybreak's similar H1Z1: King of the Kill then getting a game with his own name on it.
Plunkbat has been sitting at the top of the Steam charts perhaps longer than any other game since our records began, and for good reason, because it's excellent. Or at least I'm told it is. I'm one of the few who hasn't played it, or even watched a video of the damned thing. It's not that I'm against it or anything, I just haven't got round to it. But I suppose at some point, as all my friends inevitably pick up their own copies, then it will be hard to avoid.
If you want an opinion on it, turn to Brendan's review of the game, or Adam's account of his first (and only) kill in the game. Or read why it's officially one of the top top bestest best games of 2017 so far.
There's no signs of it slowing down, so I guess the only question is: how long until the next milestone topples?
Plans for near-future updates include vaulting and climbing and a Glock.
You can pick it up on Steam Early Access for £26.99/29,99€/$29.99.