PlayStation Hit Guacamelee Double-Dipping On PC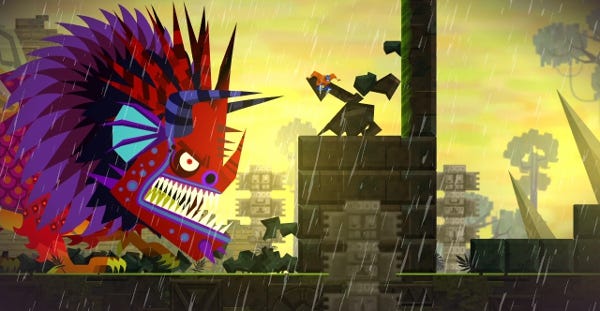 RPS Headline Generatron 5000, are you taking side jobs again? We agreed to let bygones be bygones after those puntastic Leviathan: Warships ads, but come on: Guacamelee? You're under contract, and you didn't think we'd notice your obvious handiwork there? This is a heinous betrayal of our trust, and to make matters worse, I can't even come up with a pun to top it in our headline for the announcement of Guacamelee's PC version. Heh, top it. As one might some form of snack food with guacamole. ARGH THAT WAS TERRIBLE SEE WHAT YOU'VE MADE ME DO.
The gorgeous Metroidluchadoravania turned eyes and walloped skulls on PS3/Vita earlier this year, and now it's looking for repeat success on PC with Guacamelee! Gold Edition. Interestingly, it's gold not because it's made of shiny yellow rocks, but instead due to two packs of something called DLC - which I assume is street slang for some kind of narcotic.
Also doing a series of death/physics-defying airborne cartwheel cannon ball flips into the ring: a full suite of Steam features. Trading cards, cloud saves, achievements, leaderboards, etc. The works, basically.
Guacamelee will be out on PC on August 8th for $14.99/£11.99. I've heard pretty good things about it, so I'm looking forward to taking it for a whirl. Now then, if you'll excuse me, I have a sentient headline (and now apparently game title; the nerve!) generator to scold. We love you, Generatron 5000 - just as we loved your 4999 brothers and sisters before you. But, well, have you ever sat down and wondered what ever happened to them?
Thanks, IGN.