Point And Click And Click: AVGM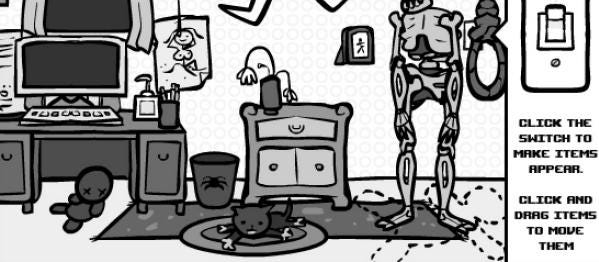 For their contribution to the first Global Game Jam, in which thousands of people made games in 48 hours this weekend, Edmund McMillen and Tyler Glaiel paired up once more to create AVGM. It's possibly important to note the game carries the following warnings: "Excessive Nudity, Excessive Violence, Explicit Audio, Mild Text, Explicit Adult Themes". Although only the most puritanical of people would take a great deal of offence. Screenshot espousing this content, and more details, below.
It's a simple Flash game in which you flick a light switch on and off in order to cause objects to appear in a room. These objects can be moved around and arranged, as you progress. The name of the game is not revealed until you have completed it.
McMillen assures that, "AVGM is an experimental art game and winner of 2010's IGF award for innovation." He's also added that since the original release of the game,
"The game now has 10 different endings that each make a piece of a puzzle. put the puzzle together and e-mail me with the info (souldescen@aol.com) for a prize!"
Here's a quick tip for that: try to arrange the skeleton correctly for the seventh ending - that's possibly the funniest. Good luck finding them all.
Edit: Okay, the last sentence might not be true.