Video: Take A Short Peek At Valve's Portal 2 VR Prototype
I miss it.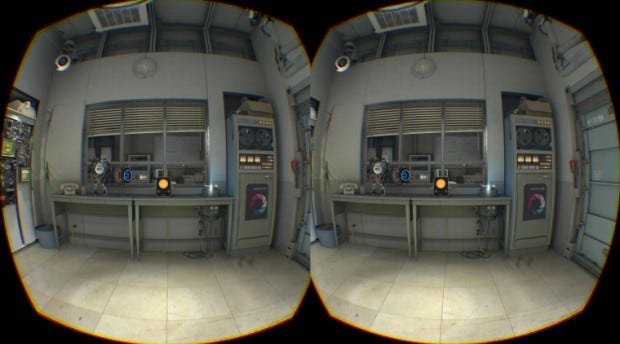 Industrious internet users at Reddit have dug up brief footage of Valve's Portal 2 VR demo, the one which was playable at GDC last week and which made me so giddy.
The footage was used as part of a talk given by Valve's Alex Vlachos, and can be seen in situ here courtsey of MaximumPC. The slides for the talk, on the advanced rendering techniques required to make games look their best in VR, can also be found on Vlachos site here [pdf].
Here's the video, since this is obviously what you're here for:
http://a.pomf.se/byxmyw.webm
Aside from being designed for a virtual reality headset and being controlled by prototype motion controllers which combine to unlock a fantasy world of delight and childlike wonder, the prototype also runs on Source 2, Valve's new game engine. It's both shinier and free to use for developers, so long as you promise to put your game on Steam (non-exclusively) when it's done.
This clip is just a brief, silent snippet of what was otherwise a short, five-minute prototype. In the full thing, you play the role of an Aperture repairman tasked with fixing the broken co-op robot Atlas. The clip shows the moment you first see Atlas, and the moment after you've slid open his head to reveal his clacking, spinning innards. It unfortunately skips over the part where you open a drawer to reveal a world in the style of Portal 2's stick figure marketing videos.
None of this means we'll see a new, fuller Portal game in future, though it seems safe to assume that at least this prototype will be available to play when the Vive launches before the end of the year.
Need more? Here's an even shorter peek at another Vive game, Owlchemy's Job Simulator.
Thanks, PC Gamer.