Powering Down: Transformers Universe Closing In January
F2P Dote 'em up closing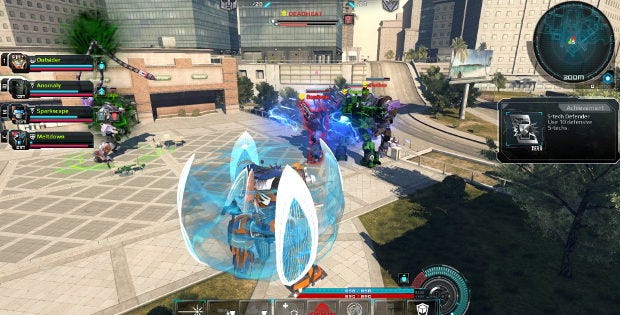 Transformers Universe will shut down at the end of January, having never properly launched. First announced as a MMO in 2011, it shifted into a free-to-play Dota-y sort of a thing (MOTA was the horrible word developers Jagex used), and launched into paid beta this year followed by an open beta in July. And soon it'll shut down. Jagex didn't give a real reason, but I suspect the fact that you can't move without bumping into a car that transforms into a MOBA might be something to do with out. It arrived too late, and didn't offer enough reasons to shift away from larger, more established F2P Dote 'em ups.
The announcement explains that "This decision comes at an important time for [Jagex and Transformers owner Hasbro] as they both realign their plans and focuses for 2015." Which isn't the best explanation.
Registrations for the game are now closed, but the servers will be up until 10am on January 31st. Jagex will be refunding folks who bought beta-accessing Founder Packs or microtransaction knick-knacks. They say:
Once again we want to thank all of the players that have played Transformers Universe and all those that have worked on the project. We're sure you have thoughts and feelings that you'd like to share on this, so please do so on our forums. Please bear in mind that this is obviously a challenging time for all involved, especially the CM team. There will be plenty of things we can't comment on, so please respect their position.