Prepare For GFWL In Dark Souls: Prepare To Die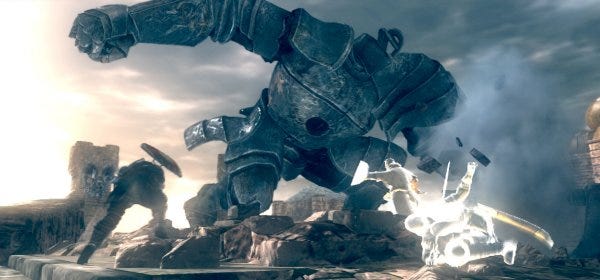 I suppose there's always a catch. On the upside, Namco Bandai's officially given in to our appropriately tough-as-nails, stubble-faced Internet petition, and Dark Souls: Prepare to Die Edition has been pegged with an August 24 release date. By and large, it's a port about as straightforward as a monster whose single, child-like aspiration in life is to brutally maul you, but it'll have two new treats in tow. Well, OK, one of them - new bosses - is a treat. The other is GFWL. I'm hoping, of course, that it's an in-game manifestation of Microsoft's much-maligned "service" that'll supplant the current final boss. It'll hurl login errors, connection drops, and convoluted menus at us, and we'll stab it to death - just like I've always fantasized. I suppose, though, that it wouldn't be Dark Souls without some hair-pulling punishment. Take an all-too-brief glimpse at some of the new content in a trailer after the break.
Looks nice, huh? Shame it's going to be burdened by GFWL, which - while highly obnoxious and certainly worthy of discouragement - shouldn't be the sole reason droves of people steer clear of a wonderful game. So, anyone up for another petition?