Wot I Think: Project Cars 2
On track for greatness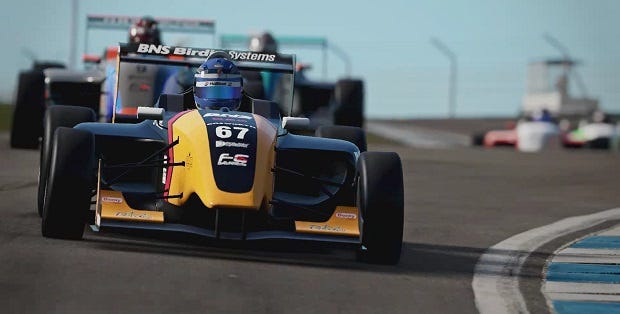 Project Cars 2 [official site] threw me into so many different racing disciplines that I needed copious amounts of tea to reflect and recover. I got a taste of the game a few weeks ago and found it satisfying, but now that I've spent some time with the full version, due for release this week, I'm fully on board, in spite of a few significant flaws. Containing so many options and disciplines risks making it a jack of all trades, but there's enough quality in the fundamentals to make the whole thing worth your while.
Right from the start, Project Cars 2 is slick. From an intro as beautiful as it is unnecessarily dramatic, it's straight into the crowd of modes, vehicles and tracks clamouring for your attention.. Unfortunately, racing school is not one of those options. Yes, a big part of the racing sim audience already understands at least the basics of tyre management, of weight transfer, and of traction circles, but there are also a lot of people out there who would love to learn some performance driving. Unfortunately, sims can provide a tougher learning curve than an actual race track.
I would have loved to see Project Cars 2 break from the racing sim pack a bit here and provide some real training. People out there crave it and it's one of the only ways the audience for these games is going to grow. It needn't just be for newcomers either: the racing school section could provide a bit of analysis and then car geeks like me would keep going back to it for advice.
Luckily, I do know enough about what I'm doing to jump right in. The first thing I did was try out a Mercedes-AMG A45 at the Willow Springs Horse Thief Mile. When I played the pre-release version for our preview, I found that some of the road cars were excessively blunted. No, the A45 isn't a race car in the real world, but it is a seriously sharp instrument, and I enjoyed the virtually identical CLA45 at the Horse Thief Mile a ton when I got a chance to play. But in the preview version of Project Cars 2 it understeered so badly that I was genuinely wondering if I had found a bug of some sort.
Luckily, whatever was causing that particular trouble appears to have been fixed. It's still a bit harder to set the front end of that particular car than I expect, but it's well within a reasonable margin of error. It also must be said that while the A45 is a precision machine, it does suffer from some understeer as a result of AMG's baffling decision to keep the all-wheel-drive system strongly front-biased.
From there I tried to get a feel for as many of the game's play-spaces and toys as possible. Trying all of them would have taken far more time than I have, but I ran the gamut from the new (to Project Cars) World Rallycross cars in all kinds of weather to sports cars to GT3 cars to a not-quite-complete run at the Indy 500. Project Cars tops out at 32 cars on the track at one time, and tradition for the Indy 500 is that 33 cars always start. Sometimes this weird tradition gets some rookies in there that wouldn't have otherwise had a shot, and they tend to either cock things up and take out a few friends or make a name for themselves over the course of a few hours on a hot and muggy day in middle-America.
That brings me to one of the flaws present in the first Project Cars that hasn't been addressed quite as well as I had hoped: the AI, while usually solid and predictable, still has these race-ending outbursts of raw aggression from time to time. They don't come as often as they did in the first game, but you are going to get rear-ended (HARD) at some point when you're really not expecting it, or nudged into the unforgiving concrete that is the Indianapolis Motor Speedway's outer wall. I was having a nice, clean, enjoyable race – going flat-out into turn 1 – when some digital jerk in Marco Andretti's car slammed me into the wall for no reason whatsoever. I couldn't finish the race and a giant pile-up formed behind me. Even the instigator, Marco's evil doppelgänger, lost a few places.
This behaviour seems much more at home in the rallycross races, but it can still be frustrating. Rallycross does feel solid, though it can be hard to get your wheels to really dig in to the gravel and get to the good stuff that lives an inch or two below the surface. If rallying is what you want, you're better off with a dedicated rally sim (I enjoyed Dirt 4 quite a bit), but Rallycross is an effective and enjoyable diversion here.
Eventually, I decided to jump into a career. Starting in karts is as close as you're going to get to a racing school here, and it's the logical place to start, so karts it was. As compared to the preview, they're still just as twitchy as real karts but the slip happened a lot less suddenly. Even a really hardcore tyre gives a good amount of warning to someone who has been taught to pay attention, and that feeling is here. Yes, a kart or formula car is almost always on the verge of losing traction, but you get that utterly important moment of "wiggle-butt" to tell you that you're pushing too hard... or just being stupid. That feedback is the difference between sliding around a corner in a sphincter-clenching drift or just crashing out, and it's very much appreciated here.
From karts I moved into sports car racing, and I think this is where this game shines the most. The GT3 cars in particular just felt right. While I haven't driven a GT3 car in the real world, I have been lucky enough to sit behind the wheels of some race cars of slightly lesser prestige, and I got a few lovely nostalgic flashbacks. The Aston Martin in particular clicked with me, and I think I'll be coming back to it often.
The career is really the heart of Project Cars 2, and it dares you to put in the work to make it to the top in all of the game's disciplines, encompassing World Rallycross, open wheel cars and several different formats of sports car racing. At the same time, there's the realization that this is a game, and as a result your career is peppered with manufacturer drives, earned by kicking ass in a particular manufacturer's car, and invitational events, earned by simply kicking ass. If you haven't earned anything, there are regular community challenges where you can try to catch the ghost car of whoever is winning the challenge right now.
If that level of structured diversion isn't doing it for you, the sheer amount of settings available on the custom, one-off events mean you can design whatever bizarre race you fancy. If you want to take Rallycross cars around the Monaco Grand Prix course, you can do that, and if you'd rather organize a race made up entirely of 32 gorgeous 1952 Mercedes-Benz 300SLs racing up the Pacific Coast Highway, you can do that too. Variety is the spice of life, and in real life nobody is willing to insure this sort of lunatics variety; so carpe diem!
Project Cars 2 addresses most of the flaws of its predecessor while expanding its scope, and in doing so has carved out a new niche for the series. It's not the absolute best sim for any given discipline – if you're really into Rallycross, get Dirt 4, and if you're really into open wheel cars, spring for iRacing (if it's in the budget) – but if you just want to buy one game that allows you to keep coming back and mixing it up, the sheer variety of tracks, cars, race formats, and options means that this game will keep you happy. It might not be the absolute best in any of its classes, but if you want to race and have fun in a bunch of ways without buying a bunch of expensive games, this might be your golden ticket.
Project CARS 2 is out on September 22nd for Windows and is available via Steam for £44.99.