Project CARS Is Still A Good Reason To Have Eyes
Because it looks pretty.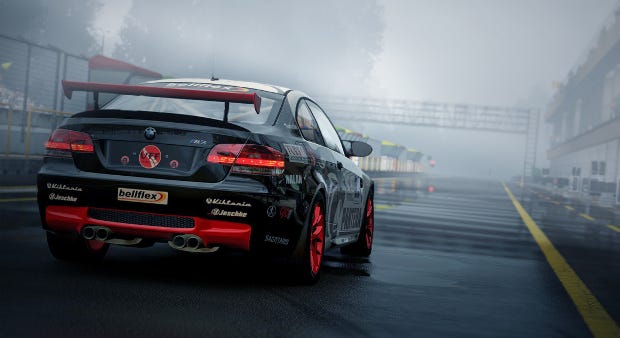 My steering wheel is sat on the floor collecting dust, while the pedals below my desk are used more for footsie than for acceleration. Project CARS will be the reason I next set it up, I reckon. I'm not a huge fan of racing games - I prefer my vehicles to be driven within a speed limit in service of the delivery of goods - but it looks so pretty. I want to see the puddles go sploosh and the cars go shimmer, and the latest trailer isn't enough.
I guess sometimes I wish I wasn't so easily seduced by reflective surfaces and lighting effects, but I am. I've watched this trailer a few times now, returning to double-check if it's trying to communicate anything of greater substance. Does it contain some feature we didn't previously know about, or is it simply confirming some essential purchase information? The answer to both seems to be 'No.' There's not even a release date at the end. This trailer is pure humblebrag, an animated tweet saying, "Never expected a few years ago how many cars I would have and how pretty I would be."
Though the trailer doesn't think to say so, Project CARS was previously projected to be projected from its developer's maw on March 20th, following a delay from an initial November release.