PSA: the Steam summer sale ends today
Come sale away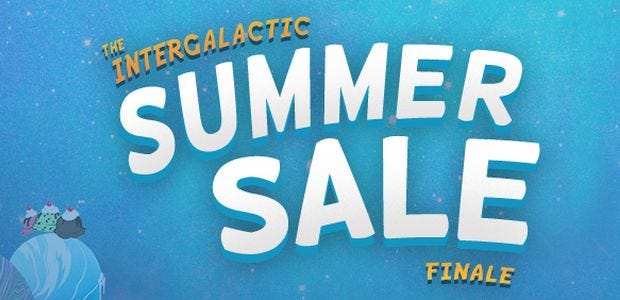 Sad news, fellow consumers. The Steam Summer Sale, our annual festival of rampant capitalism, is coming to a close today (6pm BST/1pm EDT/10am PDT). I don't know about you, but I'll be very sad to see all those little green boxes with numbers on them go away until three hours later, or whenever the next big sale is scheduled to begin. But the hollow search for distraction and fantasy at 50% off must take a recess. Before the sale goes, in six hours time, let us remind you of some of the games best suited to fill the time during your 70 flickering years on this immeasurably ancient rock. 'Mon in.
If you want the proper low-down, it's best to check our massive list of recommendations. But here's some we may have forgotten:
Red Faction Guerilla Re-Mars-tered for £7.49/$9.99 - A mason takes revenge on buildings because they think they're too good for him.
Warhammer: Vermintide 2 for £15.70/$19.79 - Comedy remake of the classic children's fairytale, the Pied Piper.
Hitman GOTY Edition for £22.48/$31.30 - A bald man with no friends goes on six consecutive holidays for innocent reasons.
The Evil Within 2 for £15.99/$23.99 - A crack detective suspects that his friend, a writhing pile of limbs, is involved in something unsavoury.
What Remains of Edith Finch for £7.49/$9.99 - A family is cursed after they build an extension to their house without planning permission.
OlliOlli 2: Welcome to Olliwood for £2.74/$3.74 - A skateboarder attempts the impossible.
Tom Clancy's The Division for £8.39/$9.99 - A gang of happy-go-lucky city workers hunt for Christmas presents on the streets of New York.
Wolfenstein II: The New Colossus for £15.99/$23.99 - Fascists die.
Just Cause 3 XL for £4.49/$6.74 - A parachutist grapples with mortality, and everything else.
These will probably all be on sale again within a few months, of course. But it's good to give you an FYI. This Steam sale had a minigame attached to it, which didn't seem very interesting. But it was also selling the Steam Link for pretty cheap, coming to about a tenner once you add in postage and packaging. The sale was also wreaking havoc to John's Steam Charts, so that's almost justifies the whole gala of consumption by itself.