Bastion devs lighting Pyre on July 25th
Set me on fire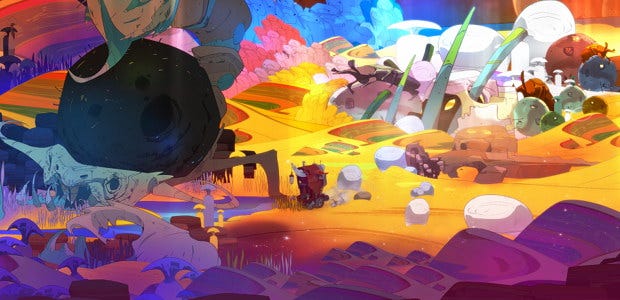 Supergiant Games, the makers of Bastion and Transistor, have announced they'll launch Pyre [official site] on July 25th. Their next game is a party-based RPG adventuring through purgatory in an ancient competition to escape. Ooh the colours of that place! I don't know why you'd want to leave somewhere so pretty but the journey involves a lot of three-on-three battles to extinguish the enemy's pyre while defending yours. Hence the name of the game. Here, you can see a bit of how combat works in this trailer from December:
Along with a singleplayer campaign, Pyre will have a versus mode to fight other people or AI bots.
Supergiant explain more of the game in yesterday's announcement. Here's a neat detail: no game-overs.
"We wanted to make a game that had plenty of challenge and exciting action, but where the fear and frustration of getting stuck was not a factor. Picking yourself up after being defeated could be part of the journey, rather than something that took place in your head while looking at a Game Over screen. So, one of the unique aspects of Pyre is how you are never forced to lose progress. Whether you prevail or fail, your journey continues. The interactive narrative is expressed through a story that should feel personal to you, and that no two players will experience in quite the same way."
Fail interestingly.
Pyre is coming to Steam on July 25th, priced at £14.99/19,99€/$19.99.