Q.U.B.E. 2 looks like a G.O.O.D. 1
Gimmie a weird high-concept puzzle game any day.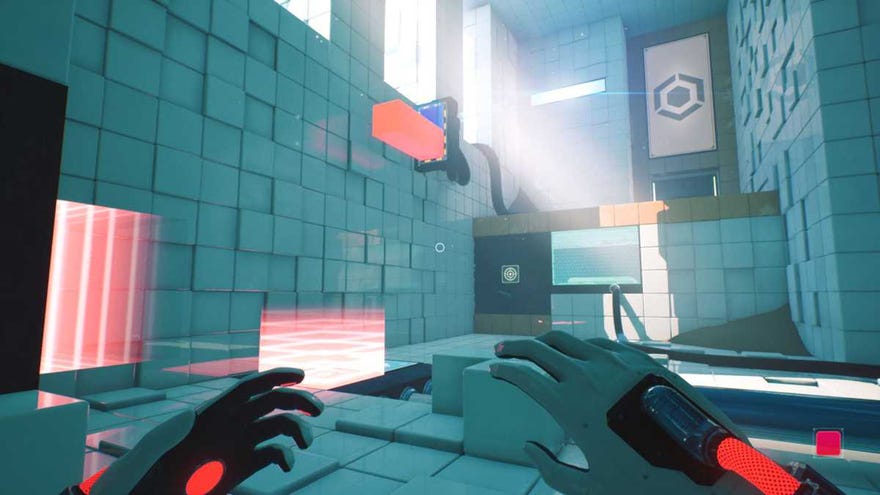 I may be addicted to this kind of nonsense and I want to finish this article so I can get to the serious business of playing this game. If you played Q.U.B.E. then you probably have some expectations set for what kind of brain-scratching world altering goodness that a sequel can bring. But the entire first person puzzle world has been churning out such exceptionally high bar work in the last few years, I'm hoping that Q.U.B.E. 2 won't just rise to meet the challenge, but might be the new high-water mark. Am I done writing, yet? No. Okay here's more.
Q.U.B.E. 2 is the sequel to the hit first-person puzzle game Q.U.B.E. You are Amelia Cross, a stranded archaeologist who has awoken among the ruins of an ancient alien landscape. With the distant help of another survivor you must manipulate the structure of this mysterious world and find a way back home.

Waking up wearing a strange suit with attached gloves, you have no prior knowledge on how you came to be in this environment. Awaiting you is a maze-like monolith, a structure that you must navigate, solving mind-bending puzzles. Use your manipulation gloves to change and adapt the architectural structure in your search to rendezvous with another survivor, finding a way off the planet.

As you explore and solve puzzles to progress, thought-provoking questions about your true purpose and the origins of the structure you are navigating will need to be considered, forcing you to come to terms with a devastating truth that will shake your world.
Can I go play it yet? No. Okay, more words first. I have a job to do. But you... you don't. You can go give this a try at any time. Why are you here?
Perusing the Steam user reviews, I think I almost never do at this point, there's just an overwhelming amount of positivity here. It might shock you -- absolutely shock you -- to learn that the first negative comment I saw managed to combine outrage over the presence of a season pass subscription DLC model with outrage over the frames per second of the title. To you sir, with your less than hour of game time played, I salute you.
As if there's any final sales point you might need, the game features a soundtrack from one of my personal favorites: David Housden. If you're also obsessed with his work on Volume or Thomas Was Alone, I'm sure that makes this an instant sell.
I'm sorry if I'm pushing it too hard. I just need to get into it now. Let me know if you have as much fun with it as I do-- oh, you're already gone. Killer. Good. Hope it's nice out there. Please promise to help me if I get stuck.
Feel free to check out Q.U.B.E. 2 on GOG.
And guess where else? That's right. Q.U.B.E. 2 on Steam, where it is temporarily discounted by 20% right now.