Quetz Is A New Dinosaur In ARK: Survival Evolved
Studio Wildcard's high flying birds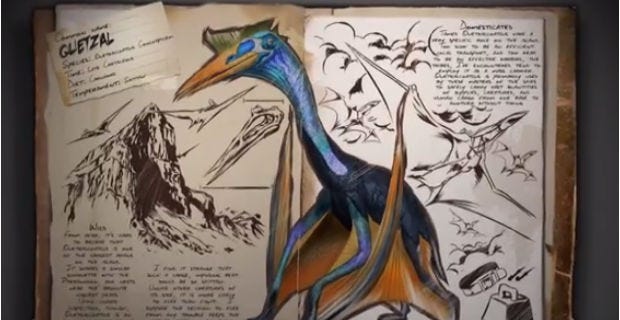 Following last week's rather extensive update, ARK: Survival Evolved [official site] has welcomed a new species of dinosaur to its shores - a "massive flying battleship" creature identified as Quetzalcoatlus that goes by the synonym Quetz.
Although I'd have to question the physical plausibility of this particular beast - something we've put to experts in the past - hopping aboard a Quetz and taking to the skies does look like fun, if the trailer below is anything to go by.
Graham has previously pointed out the refreshing yes-man approach Studio Wildcard have taken with ARK: Survival Evolved's development, and Quetzalcoatlus seems to further fit that bill. A flying pterodactyl-like dino with a huge head that can fly whilst carrying a supply load/gun turrets roughly twice or thrice its weight? Done.
Whilst mounting these carnivorous, "skittish", fellows is sure to entertain on a cursory level - because adding flying to video games is obviously the coolest thing ever - quicker navigation between bases adds a degree of practicality to their inclusion.
Then again, chasing otherwise terrifying land-based juggernauts from the safety of the skies whilst you're manning a rail gun, as depicted in the trailer, looks like a right laugh. "What is the secret to survival?" is a question posed on the game's website - I can't be sure but the aforementioned scenario must come close.
ARK: Survival Evolved lives on Steam Early Access and cost £22.99. A 33% discount which ends tomorrow means it's £15.40 for the next several hours.