Racy: Ex-Stig And The Crowd-Sourcing Portal
Everyone can make your game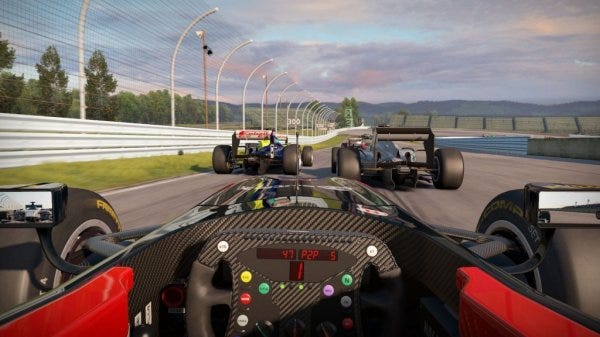 The chaps from Slightly Mad Studios (Need For Speed Shift, Shift 2) got in touch to let us know about their latest project, which is ambitious and then ambitious again. They're making a new racing game called "Community Assisted Racing Simulation" or C.A.R.S. for short, and they're doing it with a full-on crowd-sourcing and crowd-funding portal, World Of Mass Development. Their plan is to prove that the concept of getting the wider gaming community to help out actually developing games is workable by doing it with their next racing game, and they'll be opening it up to other projects at the same time. Yours, maybe. They've even got the man who was Stig on Top Gear, Ben Collins, to help out for some reason.
I spoke to Slight Mad's Ian Bell about the project in more detail below, and he explains where they idea came from and where he hopes it is going to. You can also check out the site here.

RPS: What was the motivation for your guys to WMD and how did you come up with the idea?
Bell: The initial motivation grew from a frustration with the current publisher/developer setup that sees top quality games not being made because publishers have mostly consolidated on their proven brands and cut back drastically on the acquisition or development funding of new game ideas. There was also some annoyance in the fact that large publishers have an enormous cost base which must be paid for out of the sale of the products the developer breaks their backs making. Out of this traditional funding system the developer ends up doing the lion's share of the work and gets the least on the backend. The developer actually gets a loan from the publisher to cover development costs, pays this loan back as 'advance against royalties' meaning that with the huge cost base mentioned above hard earned potential royalties disappear into a black hole. The idea grew out of a wonder as to why this isn't happening already. With our system we provide 100% transparency to the team members who purchase tools to be part of the project. They see every aspect of development in detail, steer the design and feature list, can provide art and support and importantly, are an ongoing source of QA and marketing (the two things which the publisher provided before). I saw no reason why this should be the case.
RPS: What sort of games do you think will benefit from the WMD approach?
Bell: I think all types of games. Initially the system is most appropriate for AAA developers with a good history that can't get the publishers to back the product for development as they all have cold feet right now.
RPS: From what I understand, this isn't Kickstarter and you're hoping people will help with more than just cash? How exactly will people be able to contribute to development? Can you flesh out the sort of things you expect people to do?
Bell: Right. This system is a form of both crowd sourcing and crowd funding. Crucially, the people who join up will get paid back for their input when the product sells. At a basic level we expect people to play the game and engage on the development forums in whatever form suits them. Some 'team members' might mainly want to play and post their opinions, others might get more into finding bugs and yet others might want to provide art assets or script based features (we've developed our own scripting system for this which we'll ship to team members in the near future).
RPS: Will people who have done work via WMD get a credit for it? (I'm thinking about budding devs who want to add something to their CV here.)
Bell: All of those that join will get credit and we also have a system for the public to promote individuals they feel deserve to be in a higher member tier (and thus get more fees when the profits come in). As we won't be paying staff monthly I don't see it sustaining people in terms of a steady income but it is certainly a nice addition to anyone's CV.
RPS: When will the first playable build of C.A.R.S. be available for people to tinker with?
Bell: We're having a soft beta launch today with restricted numbers to test the systems on backup servers (read: slow download!) before we go live on the main servers.
RPS: Thanks for your time.
Full announcement jabber:
C.A.R.S. gets the green light!

Exciting new racing title gets ready to set off

Slightly Mad Studios today announce the imminent unveiling of C.A.R.S., their first title to be produced using the innovative new WMD portal. To compliment the unveiling, SMS is also announcing their exciting latest addition to the C.A.R.S. development team; Ben Collins, the man who spent seven years as the "Stig".

London, October 11, 2011:

Speaking of his participation, racing driver Ben Collins said, "I'm delighted to be working on the C.A.R.S. project to create the best racing simulation in the world! Computer 'games' and simulations have become integral to success on the race track and I will be applying all my racing knowledge to provide handling input and advice to the builds on a regular basis. I'm also looking forward to meeting some of the project's contributors at the trackday events and working with SMS's team of experts, whose passion and pedigree will be key to the development of this incredibly exciting new model."

Ian Bell, MD of the company behind C.A.R.S and the WMD Platform said, "When we found out Ben was interested in the project it was an obvious decision to get him involved. I can't think of anyone better. As the "Stig" he has driven the best cars in the world and was universally regarded as the best real racing driver around. The experience that he can bring to the team will be invaluable. He's also really enthusiastic about working in a new development model alongside fans, members of the public and experienced developers alike."

Racing fans can sign up to become part of the C.A.R.S. (Community Assisted Racing Simulation) team from Tuesday 11th November, where they will instantly be able to actively contribute to the
development of the game via the WMD portal. From day one they will be given a unique opportunity to actually participate in the development of a AAA game, as part of the team that created the Need For Speed: SHIFT series, with access to state of the art tech and tools, early builds of the title and the team's development forums.

The project is Slightly Mad Studios' first project to use its revolutionary crowd- sourcing meets crowd-funding platform WMD (www.wmdportal.com) which enables fans, enthusiasts and other members of
the public to contribute to the development of upcoming titles by working on them or providing funding – or both – whilst getting to enjoy the game whilst it is being built. What is more, when the game is released all those who worked on the game will earn a share of the revenues earned.

Places will be available on a first come first basis at launch but in order to make sure everyone has a fair chance, additional places will open up throughout the development process. Founder Team Members will however have exclusive benefits. The expected final release date for C.A.R.S is expected to be around Thanksgiving 2012, so make sure to sign up and get involved!

About WMD
WMD (World of Mass Development) is a new platform for games creation from the award-winningdeveloper Slightly Mad Studios that allows:

•

Developers to submit ideas to an active gaming community, raise the funds needed to develop them, get continual feedback from community team members that can play work-in-progress builds, use the WMD Portal to promote their project, get help from other developers, and ultimately launch their game to an eagerly-awaiting audience

Players to browse available projects and join any they are interested in, download and play regular builds of the game, participate in discussion and polls, speak directly to the developers,
and eventually earn money back for their contribution when the game is released

•

WMD is therefore a unique prospect for both gamers that want to get involved in exciting upcoming titles and developers looking to raise funds for their projects. To see a full breakdown of the details for both players and developers, plus lots more, please visit www.wmdportal.com, or contact info@wmdportal.com. Follow the updates on Twitter @WMDCars.

About Slightly Mad Studios Ltd
Slightly Mad Studios is an independent, award-winning developer known most recently for its work on Electronic Arts' Need For Speed franchise with the successful SHIFT series. The company has a core
studio located near Tower Bridge, London but predominantly uses a unique distributed development system that allows the team to attract worldwide talent, be cost-effective and ultra-efficient.

Slightly Mad Studios has also recently launched a sister company Gamagio that focuses on social/mobile titles with a number of new technologies and games in development and releasing soon.

For more information about Slightly Mad Studios or Gamagio, please visit the relevant website: www.slightlymadstudios.com and www.gamagio.com. Follow us on Twitter @slightlymadteam and
@gamagiogaming.