Rage 2 revs up for a May launch
Rage in general favour of the machine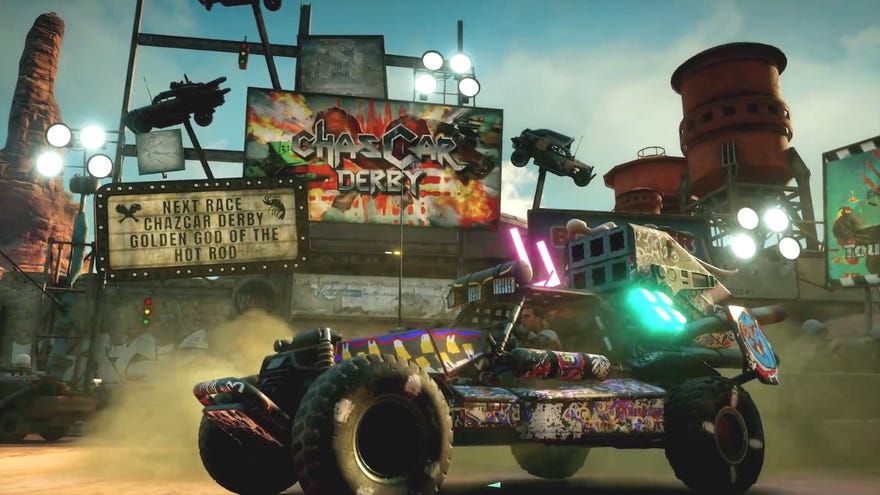 The world may be a barely-habitable hellscape of unending hyperviolence, but that's no reason to be glum according the new Rage 2 trailer. Along with announcing a May 14th launch date and a pre-order page popping up on Bethesda's store (though not Steam, interestingly), The Game Awards last night gave us another look at the Id/Avalanche collaboration in action. The new video features a lot of dusty roads punctuated with flashes of neon, lots of gore and a peek at some of the roadside activities available. Take a peek at its well-signposted end of the world below.
From what I've seen, people are a bit less enthused about Rage 2 after Avalanche's Just Cause 4, which John thoroughly skewered in his review here - and it isn't doing much better elsewhere. Personally, I don't think there's too much (just) cause for concern - AAA studios are enormous and have multiple teams working on assorted projects. It's been hinted that the Avalanche folks behind Mad Max's open world sandbox are handling the road warrior side of things, while Id are focusing on what they do best - messy close combat and noisy sci-fi weaponry, although their main force is likely hammering away at Doom Eternal right now.
Gunfights, minigames, racing, vehicular combat and a lot of explosions - looks about right for a collaboration between those two studios. It also reminds me a bit of how people tend to play Fallout once the veneer wears off and you just start treating the world like a big playground for your personal amusement. Who cares about lore when there's a population boom amongst neon-haired punk fodder, and you've got all the firepower in the world? My only worry at this point is that most enemies seem to be just Human With Gun, punctuated with the occasional Big or Very Big Human With Gun. More weird robots and monsters, please - at least that'll help differentiate it from Far Cry: New Dawn.
Rage 2 launches on May 14th, 2019 for £45/€70/$60 - yikes on that Euro price. You can find it on its official page here.