Raid: World War II due from ex-Payday devs next month
This means World War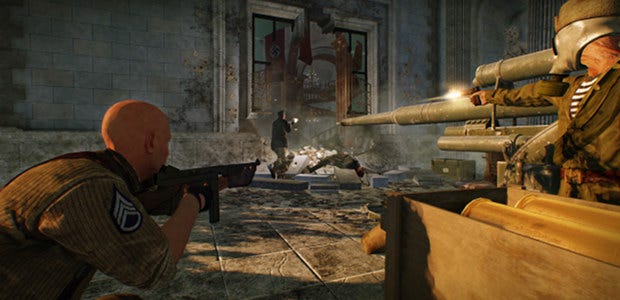 Those naughty Nazis are back and being murdered to bits in Raid: World War II [official site], a new cooperative shooter being published by Payday 2 publishers Starbreeze Studios. The four-player stealth-o-shooter will send goodies to rob, sabotage, and murder the baddies, leaving mayhem and destruction in their wake. It's meant to be similar-ish to Payday 2. And yesterday, Starbreeze announced that Raid: World War II will launch on September 26th. Oh, and John Cleese will voice your intelligence dad.
So! There are Nazis, and they have troops, infrastructure, and treasure. You don't want them to have any of those. So off you and your pals go to sabotage and steal. It's class-based -- Recon, Assault, Insurgent, and Demolitions -- with different abilities that help build a rounded team of elite Nazi-killers. It's meant to be quite like Payday 2, and the little I've seen does seem similar-ish to some of the less-conventional Payday levels.
Raid: World War II is being made by Lion Game Lion, a studio which was formed mostly of folks from Payday devs Overkill Software and which has worked on Payday 2 DLC too. Lion GameLion's work includes the Car Shop and The Bomb heists.
For a game so close, Starbreeze have shown remarkably little of Raid. All the official trailers are cinematic guff. Here, check out two minutes of action and dev chat from a livestream a couple months back: