Rampage Knights Is The Binding Of Golden Axe
Comfortingly unoriginal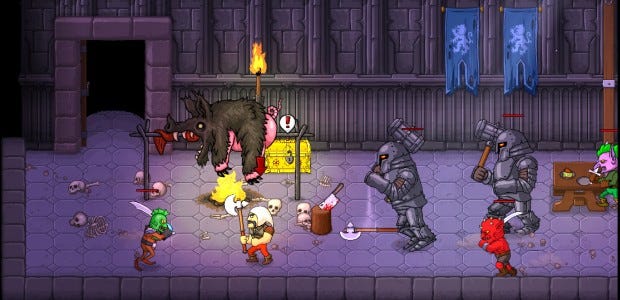 I have a real soft spot for games in which you thwock enemies and collect gold with friends. They don't even have to be particularly complex or original; Fighting Force on PlayStation 1 once scratched that itch, and more recently I battled shoddy netcode to play through parts of Hammerwatch.
Rampage Knights therefore looks appealing. It's "Binding of Isaac + Golden Axe", according to its developers, and that certainly holds true in the bloodsoaked trailer below.
There's something comforting, now and again, about seeing a game and knowing exactly what it is. Randomly generated levels? Of course. Boss monsters at the bottom of dungeons? Yep. Two-player co-op? You betcha. Hell, an IndieGoGo campaign? Obviously.
What sets it apart? Mainly that there is a demo you can play right now, which means you can decide whether something slashing-and-gold can stay before you decide to help fund it or vote for it on Steam Greenlight.
Developers Rake In Grass are also responsible for Larva Mortus, a top-down "action horror" John fell for back in 2008. 2008! I wasn't even born then.