Control is a telekinetic shooter from Remedy
Alt delete?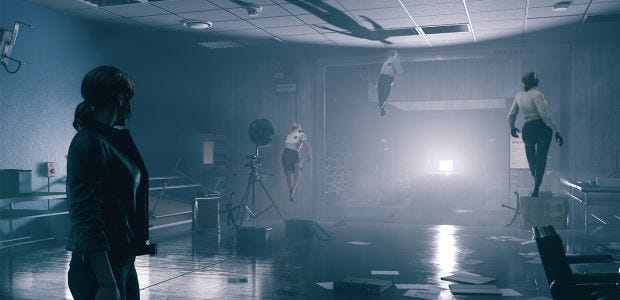 Max Payneologists will be happy to know that Remedy have revealed their new shooter, Control, which they describe as a "supernatural third-person action adventure". It looks a little bit Psi-ops: The Mindgate Conspiracy, a little bit Inside and a little bit... I don't know? Come and take a look at this throbbing gun and explain to me what's happening.
No, I'm not sure either. But all those floating bits of clutter do look purdy. Let's see if publisher 505 Games can enlighten us some about this lady and her mind games.
"After a secretive agency in New York is invaded by an otherworldly threat you become the new Director struggling to regain Control. From developer Remedy Entertainment, this supernatural 3rd person action-adventure will challenge you to master the combination of supernatural abilities, modifiable loadouts, and reactive environments while fighting through a deep and unpredictable world."
There's a bit more background info on the game's official site. The floaty lady is called Jesse Fadens and she's stuck in a New York building whose architecture is constantly changing due to some creepy "unseen forces".
It's scheduled to come out some time in 2019.
Check out our E3 2018 tag for more announcements, trailers, news, and goodness knows what else.