Reus And Renaissance Heroes Are Things You Can Play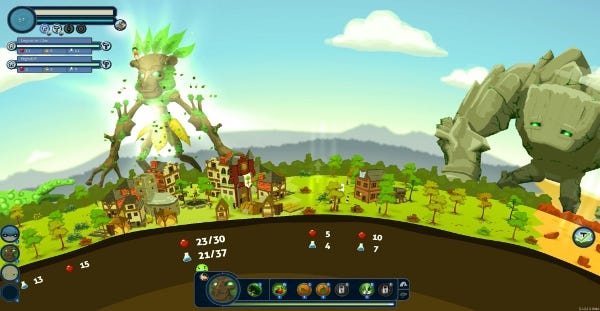 Hey, kid. Yeah, I'm talkin' to you. You wanna buy some- oh jeez, shush! Police and/or an out-of-touch politician! OK, phew. They've passed now. Anyway, might I interest you in some videogames? Oh, don't worry: they're real. Fresh out of the oven too, if you know what I mean. Heh. What've I got? You're in luck today, kid. Yes indeed. Ever wonder what it'd feel like to be god - and also a planet, and also some manner of crab giant? Well then, Reus might just float your boat, if you know what I mean. Heh. No good? Brain too rotten from your "Call of Honorfield" murder machines? Hm, then how about Renaissance Heroes? It's got all of the guns and none of the plausibility! Go to beauteous portions of 16th century Renaissance Europe and then blow them up! That sort of thing. Oh, you want trailers? Mr high-roller, huh? Fine, fine. Go past the break and they're all yours. If you know what I mean. Heh.
Both are out now, and available for purchase - or lack thereof. Reus will run you $9.99 on just about every platform under the sun - most of which will net you Steam keys. If you're still on the fence, Alec wrote up some impressions... in which he admitted to still being on the fence. Well, at least now you'll be informed about it.
Renaissance Heroes, meanwhile, also just arrived on Steam, but it's clad in the edgy leather jacket of the business world: free-to-play. It looks like a fast-paced old-school FPS from Quake's mold, but I haven't actually played it, so I can't say how it handles. Has anybody else tried it out yet?
So yes, games! You can play them! DO IT. YEAH.