Riftlight My Fire: Rust Devs Show Arcade Shooter Prototype
Shine a little Riftlight on me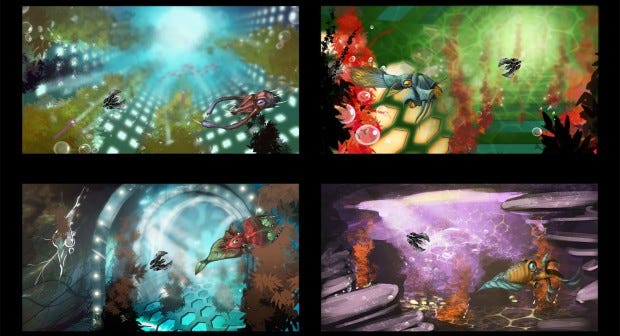 What do you do when your released games unexpectedly make all the money in the world? Use some of it to create prototypes of other games, I guess. Facepunch Studios, makers of Garry's Mod and Rust, are beginning to write about different projects they've been developing. The first is Riftlight, an arcade shooter with "light-RPG" elements like levelling and skill trees. Over on the Facepunch blog, designer Adam Woolridge has concept art, early in-game footage and other details, some of which I've picked out below.
I'm particularly fond of this direct question, as more developers need to announce their game by answering "why bother":
Why make another space shooter game?

Because:

I like fast paced, arcade twin stick shooters.
I like loot hunting games.
I like picking talents and abilities and equipping different gear to change the way the I play the game.
I like finding cool new places to kill cool new baddies in randomly generated levels.
I like playing co-op with a couple of friends and I like getting better gear than them :)
I want to play on my PC and also on a big TV in the living room, using my new Steam Machine.

...and I haven't found a game that is all of those things, or I'd already be playing it.
I can't actually embed the video here, but I'm also particularly fond of these colourful mock-ups:
It doesn't sound like there's necessarily a guarantee that Riftlight will happen; one of the reasons Facepunch are showing these prototypes is to gauge what interest there is in them. If there is no interest, then presumably they won't continue working on them. That doesn't seem likely in this instance, but what I'm saying is: there is a Riftlight, it might never get out. (This labored pun wouldn't fit in the title field).
You can find more images, details and that video through on the devlog.
(It seems worth pointing out - since people are insane - that development of Rust is continuing at the same pace as before and this and any other prototypes Facepunch show are being made by different people at the company.)