Rising Thunder Cancelled As Riot Games Buy Developer
Stonehearth development continues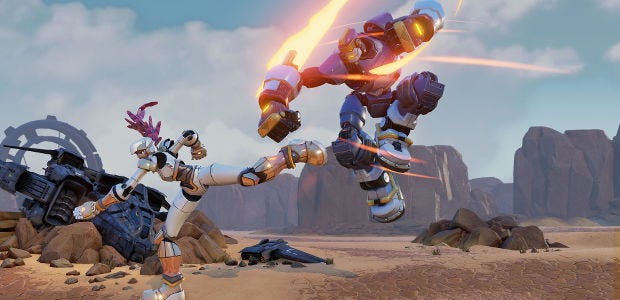 Riot Games, developers of League of Legends, have acquired Radiant Entertainment, makers of online fighting game Rising Thunder. This means that the open alpha for Rising Thunder is permanently closing on March 18th, while development of their block-based top-down terribly-named town builder Stonehearth "will go on, full speed ahead."
This was all announced in a short post on the Radiant Entertainment site, in which they also say that the Rising Thunder "team will start work on a new game that we're incredibly excited about. We wish we could say more now, but rest assured you'll hear more when the time is right." The language was originally softer regarding the fate of Rising Thunder itself, but was updated last night to add that important "permanently closing" bit.
Which doesn't sound too good if you were enjoying the fighting game. I'm not sure how many players it had, but it got a lot of early attention because it had a lot of "one-button" moves instead of relying on complicated combos, and because its designer was Seth Killian, who worked at Capcom on the development of Street Fighter IV.
I'm less familiar with Stonehearth, presumably because I read its name and wilted like a flower till the following spring. It looks cute though, like Banished by way of Minecraft's art and with Cthulhu monsters, and it received six-times its target when on Kickstarter back in 2013.
To idly speculate with zero information, I'm going to guess that the new game that the Rising Thunder team are working on is a similar fighting game, but one which fits within the League of Legends universe. It'll be called CraftWar or Ill Diablo or Blizzard All-Stars or something.