Kick! Punch! Rising Thunder's Technical Alpha Open To All
Punch punch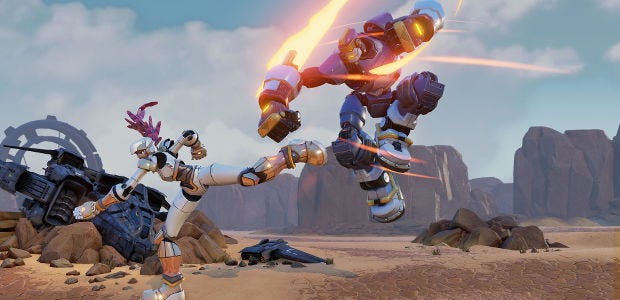 What do you get when founders of the world's largest fighting games tournament and the former Capcom chap who lent his name to Street Fighter IV's final boss get together? Not the most hardcore of hardcore fighting games, no, but a surprisingly accessible one designed to introduce the pleasures of face-punching to a wider audience. That's Rising Thunder [official site], and you can have a bash yourself now, as developers Radiant Entertainment have opened its technical alpha version opened up to everyone, with no more waiting.
"Network test success!" declared the game's Twitter last night. "As a result, Rising Thunder Alpha is now open to all." You can sign up here to get straight in and start punching.
Rising Thunder does away with the usual fighting game complex inputs for special moves, making them one-button moves with cooldowns, meaning folks don't need to learn strings of buttons before they can really start to learn the game. It still has cancels and combos and dashes and all that, mind.
Rising Thunder will be free-to-play and online-only when it launches, selling cosmetic doodads to customise your robofighters. Radiant are lead by Evo founder Tom Cannon and his brother Tony Cannon, who created the GGPO netcode. Fighting game man about town Seth Killian is in too.
Does removing esoteric inputs babyify a game and make it for babies? Have a gander at this player bashing out some nasty-looking combos: