Roblox codes: every redeemable promo item
All active codes as of March 2020
Roblox has a lot of ways to show off creativity, but there are occasions where promotional items can be redeemed in-game for players to use. It's not immediately obvious how to redeem them, or indeed how to equip them once they've been redeemed.
Don't worry, we'll get you up to speed with how to deck out your avatar with all the items obtained from codes, which now include the brand new promo item that has been released as of March 2020.
Roblox codes guide
Here, you'll find all the currently redeemable Roblox codes and currently obtainable Roblox promo items, including the new Roblox Fall code with a step-by-step guide to how to redeem the codes. We will also have an archived list of all the old Roblox promo codes that are now invalid so that you don't end up wasting your time trying to redeem them. This updated guide also includes all three Roblox Creator Challenge games you can play to win several Roblox promo items.
Contents
Currently active codes
Here are all of the currently available codes that you can enter into the promo code website right now to redeem. If you see any others listed elsewhere as of March 27th , 2020, they will not work.
TWEETROBLOX = You'll get the "The Bird Says____." item, which is a Twitter-like bird. (Accessories -> Shoulder)
SPIDERCOLA = Redeeming this code gives you the Spider Cola machine. (Accessories -> Shoulder)
100YEARSOFNFL = When redeemed, this gives you the Golden Football. It was created to promote the 100th NFL season. (Gear)
Roblox Creator Challenges
There are other ways to redeem Roblox promos than just entering in codes into the text box. Some Roblox games will reward you with inventory items that you can use in other games. Click the links with your account signed in and play these games to get the three items in each one. There are a lot of copycat games of this type that aim to troll you into playing them, making you think they're the officially supported ones. We've done all the digging and provided you with the links to each correct page.
If you wish to try and find some promo items for yourself, the developer is "Roblox Creator Challenge". Pay particular attention to the spelling and if it has capitalised words, as there may be unofficial accounts with incorrect usernames.
---
How to redeem codes
In order to redeem Roblox codes, you'll first need to go to the Roblox promo codes page. From there, simply sign into your Roblox account, then type out the codes above and click redeem to get the promo item. If you enter the password and it says that it is already redeemed, then you should already have the item.
If you get an "Invalid promo code" message, double-check the code that you entered. Make sure there are no spaces, and that the code is made up of one word. If you still see that message, then the promo code may have expired.
You could also get a message that reads "An unexpected error occurred. Please try your request again later." This could be an indication that there is a problem with Roblox's servers, so try again in a few hours and see if it works then.
---
How to use your items in-game
So you've redeemed your Roblox code, but how do you equip them? Make sure you've logged into your account, then on the left-hand side, click "Inventory". From there, you'll be able to look through your items and depending on where your item is assigned, you'll eventually find it.
Sadly, there is no search option for the inventory, but for the currently available items, we've put in italics where you can find that item in the inventory.
When you've found the item, click on it. It'll take you to an item summary page for that item, where you can try it on or look at the item via a 3D model or a still 2D image. If you are happy with this and want to equip it, there are three dots on the top-right corner. Click this and you'll see an option to "Wear". Click that and your avatar will now be wearing the item.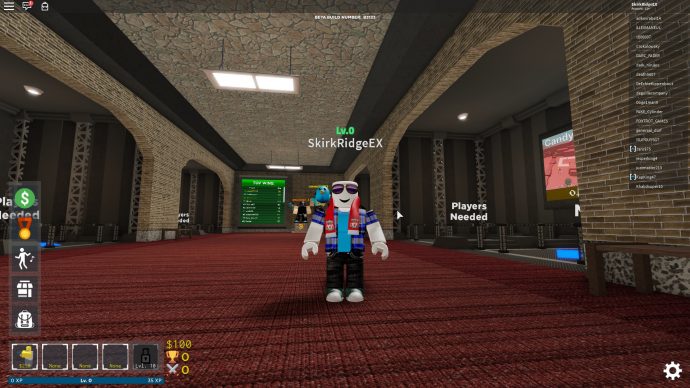 Archive of old codes
Finally, we come to the list of codes that have expired. These will always bring up the "Invalid code" message when typed in. The reason that we've put these codes into this guide is so that you know for certain which codes will not work with the Roblox promo code page.
All of the items listed are unavailable unless you redeemed them at the time. The exception is Full Metal Top Hat, which is now able to be purchased for 800 Robux from their shop.
Thanks so much for reading our currently active Roblox codes guide. If you would like to see a list of the best free games on Roblox, we have an article for this, which you can find here, so you can potentially discover your new favourite Roblox game.