Roccat Khan Pro review: A small wonder?
Wrath of Khan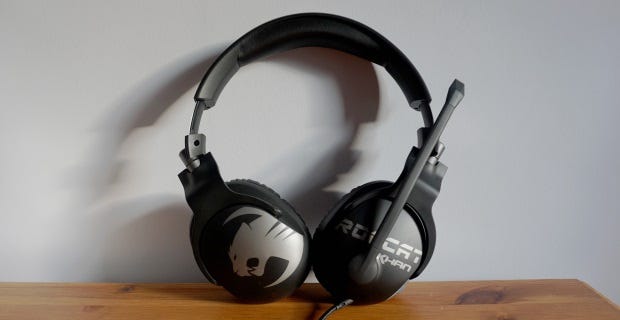 As gaming headsets go, the Roccat Khan Pro is delightfully diddly. Normally when I put on a headset, it feels like I'm encasing my head in something akin to a bike helmet, so large and cumbersome are their various ear cups that they'd probably provide adequate protection in the event of a roadside collision.
That might be because of my apparently pea-sized head, judging by the number of adjustments I always have to make to get a good fit, but it's a rare thing indeed when I find a headset that could almost pass for a regular pair of over-ear headphones. You know, if it didn't have a mic poking out the side or gigantic logos emblazoned on the ear cups.
In truth, I still had to put the Khan Pro on the tightest headband setting to make it comfortable, but the actual overall footprint of the headset is blissfully small compared to something like the monstrously over-sized Corsair Void Pro RGB, meaning it takes up less room on your desk and is easier to chuck in a bag. It's light, too, weighing just 230g.
That's partly because it's largely constructed from great swathes of plastic, but the good news is that said plastic feels pretty robust. Even its spindly microphone feels like it would survive an accidental sitting on, making you only half grimace when you find out it costs £70/$100.
Alas, despite the Khan Pro's petite dimensions, my old pal Aching Headband reared its ugly mug once more after about 30 minutes of wear time. The faux leather ear cups were perfectly comfy both with and without my glasses on, but the rather sparse amount of padding up top meant I had to keep shifting it around to alleviate the discomfort.
I also frequently couldn't find the small volume knob on the very back of the left ear cup. I have long hair, and I usually tuck it behind my ears when wearing headphones so it doesn't irritate me. Of course, this means it falls just in front of the volume knob to form an almost perfect curtain around it. It got easier with time, but the knob itself isn't very big either, making it easy to miss when you're blindly fumbling around for it.
I'm sure most of you won't have this problem, of course, but I'm equally certain that you'd also prefer to have a decent-sized volume knob over the giant ROCCAT KHAN logo hogging the rest of the ear cup.
Fortunately, the fold-down, bendable microphone on that very same ear cup is one of the Khan Pro's strongest features. Audio was clear and pop-free when I took it for a test-run in Audacity and I didn't hear any signs of distortion despite many deliberate attempts to try and perforate my ear drums.
Alas, the quality of the Khan Pro's actual audio is somewhat less impressive. Now, Roccat's marketing the Khan Pro as a headset for them there esporters, so it may be that the drivers have been tuned to function best in rip-roaring, crowd-cheering stadiums rather than the altogether more quiet, solitary spaces of your own home. Unfortunately, the Khan Pro doesn't support Roccat's Swarm software, so there's no way to tweak any kind of equaliser settings to suit your personal tastes, so you're stuck with what you get straight out of the box.
Either way, the Khan Pro left me underwhelmed. Game audio was… fine and didn't disrupt other members of my household, but it wasn't hugely atmospheric either. In Hellblade, for instance, Senua's inner voices certainly felt like they were whispering in my ear, but their flat delivery just didn't produce the same kind of creeping spine-tingling sensation I felt with the Void Pro. Instead, everything just felt a little flat and uninspiring.
The same thing happened when I tried the Khan Pro with The Evil Within. Sloshing through the fifth chapter's dingy sewers produced plenty of crisp, tinkling water detail, but the screams and moans of its monsters lacked the kind of haunting depth I'd expect from having their death-rattles plunge straight down my ear canals.
Doom, meanwhile, felt almost a little overwhelming for the Khan Pro, its industrial backing music drowning in a general moosh of thumping noise. Incoming fireball arcs and plasma shots also didn't seem to transition smoothly from one ear cup to the other as I moved around, and instead popped between them like some sort of demonic tennis ball, making me feel like I was constantly going deaf in one ear.
Listening to more general music was a bit of a letdown as well, with the bass in Final Fantasy XV's battle soundtracks turning into a bland, muddy mess that all but drowned out the high piano notes on top. Drum beats in rock tracks also sounded quite dull and flat, while vocals frequently struggled to be heard above their backing instruments.
If the Khan Pro was a fraction cheaper, I probably wouldn't mind so much. At somewhere in the region of £30/$40, it would be a decent pair of stereo headphones with a good mic. But when it actually costs more than twice that amount, it comes dangerously close to Corsair's Void Pro, which produces a much better sound and goes for just £10 more in the UK and actually $20 less for those in the US. The Khan Pro may have size on its side, but the shadow of Corsair's jumbo headset is a tough one to escape.