Rocket League To Get Basketball Mode
Car basketball is coming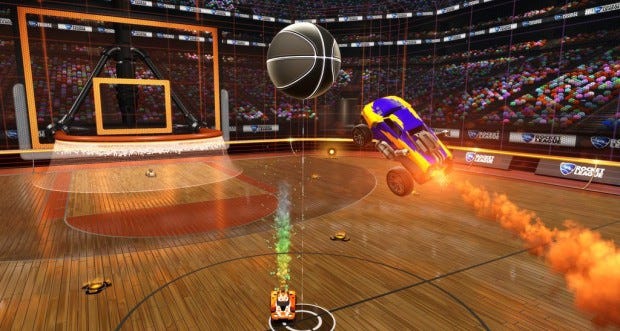 Rocket League makes me happy even when I'm not playing it, simply by existing and continuing to add silly things. The latest silly thing: it's getting a "Hoops" mode, which swaps the football goals for basketball rings. We don't know much more than that and you can see the only screenshot of it so far above.
The mode was teased via a tweet by developers Psyonix:
March Madness is just around the corner. Great time to tease the mode we're working on next #RocketLeagueHoops pic.twitter.com/rrlEnnFhby

— Rocket League (@RocketLeague) March 11, 2016
Which is exactly what I needed to see on a cold Friday morning. March Madness, in case you're not in the US, is a reference to televised college basketball, by the way.
Rocket League is a highly competitive game, pitting teams of one, two or three players against one another in car football. It has a high skill ceiling, owing to your ability to render your car airborne and then control it with carefully timed blasts of the rockets attached to the back of your vehicle. But it's also highly accessible, easy to pick up and play, and has done a great job of keeping the unskilled players - eg. me - interested with silly updates and new modes and mutators that make skill a little less important. Unlike most multiplayer games, you can still hop into it now as a rookie and find plenty of people to play with, rather than solely the super-capable.
Hoops mode looks like that kind of silliness, although I'm fairly certain that I'll never deliberately get the ball to go up and then down within that hooped zone. I can barely get it in the goals as it is.