Rocket League Starts Dunking In April
GET DUNKED ON!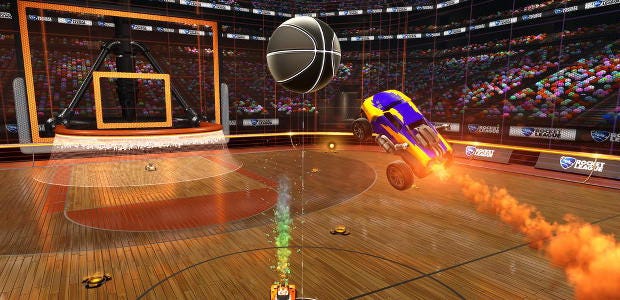 Psst. Pssst! Hey, hi, shh, get in here and close the door. This is actually Alice hacking into the account of a vanished RPS hero because I'm a mite flu-y and everyone in the RPS treehouse shouted at me to go back to bed. But they can't reasonably expect me to resist a car nailing a sweet dunk. It is, of course, a peek at the upcoming basketball mode for carball game Rocket League [official site], which developers Psyonix have now announced will launch in April. Look, I'll show you this short video loop and then schlep myself back to bed, I promise:
GET DUNKED ON!
I imagine the kids yell.
I heard someone say it once.
I mean, it was on the Internet, but all the kids are on the Internet nowadays.
Hoops, the old bounceballeroo, will arrive in April and be... like Rocket League but more basketball-y? Actually, question: which sport do you compare Rocket League to? Football is our go-to comparison, but RPS is based in Footieland. I've seen folks in other corners of the world compare it to ice hockey. I think it's because of the momentum players have, and also the shoving? But Rocket League is played primarily with a bouncy ball. Though it did add a hockey puck option. Hocker? Carhockerball.
Okay, shhh, I'm ducking out again. If Pip asks, you ain't see me, right.
Nibble nibble munch munch, nibble nibble munch.