Get Dunked On! Rocket League Launches Hoops Mode
Vroomshakalaka!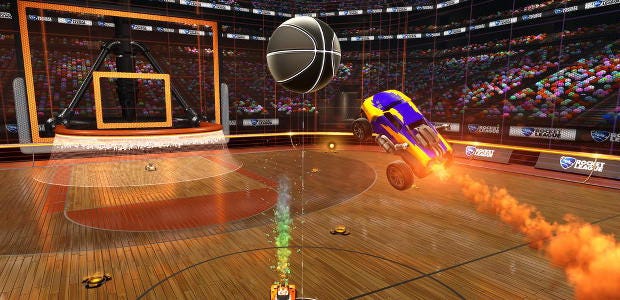 You may now dunk on your friends, and your friends may dunk on you, and you may all dunk on each other - and with each other - to your hearts' content. The promised basketball-y Hoops mode arrived for Rocket League [official site] in a free update today. Instead of a goal, Hoops has a... a hovergoal? One of those big onion rings they play basketball with. You know the ones. Also, a load of cosmetic carbits inspired by The Witcher, Goat Simulator, and other games are now in Rocket League too.
Hoops mode has one map, the Dunk House. It's the same basic Rocket League idea - drive cars around to bump the ball into a goal - but with a hovergoal, which has some sort of cyberskirt dangling beneath it which you can also use as a ramp. Aerial moves are pretty important, what with all the dunking and all. Here, have a look:
The patch notes for version 1.17 detail other newness, like naming and renaming replays, auto-saving replays mid-game, and a new 'Cosmic' arena in the experimental Rocket Labs playlist.
The update also dunks a load of cosmetic customisation on players, including stuff inspired by Euro Truck Simulator, Goat Simulator, Portal, The Witcher, Worms W.M.D., the charity AbleGamers, and a load more country flags. Good news: you can now rep Vatican City! Oh, Psyonix are now selling a load of NBA team flags as DLC for £1.59.
VROOMSHAKALAKA! A joke so good I had to repeat it.