Car-To-Ball: Rocket League
Football with rocketcars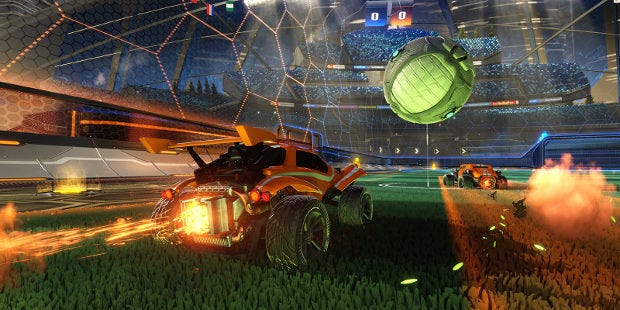 If we were to draw up a list of Rock, Paper, Shotgun's collective interests, rocketcars and pretending we don't understand football would both rank highly. So:
Nyooooooooom! ScreeeeeeCH! Crunkash! Those are the sounds of Rocket League, a game where teams of rocketcars chase each other around a field inside a stadium, trying to shunt a technosphere into a repository. What a horrible creation this technosphere must be, that drivers smash it with such force and fury. What terrors might be unleashed should it... hatch? Cool your jets and form an orderly line to follow me for a trailer, if you will. Krrrruntpow!
You might notice a lot of PlayStation talk in that trailer. Well. That's because Rocket League only comes to my attention through the announcement of a PS4 version. Sorry. However, it's been beta tested on PC for a while now, and developers Psyonix (them behind Nosgoth and A.R.C. Squadron) confirm down in their Facebook comments that it is still coming to PC.
Rocket League, as you see, is a futuristic sport with rocketcars. It's some combination of football, demolition derby, and stunt course, which is a pleasant list of ingredients. This isn't Psyonix's first jetrodeo either. Rocket League's their follow-up to 2008 PS3 game Battle Cars, so they should know a thing or two about rocketcars. Here, you can read a bit more about Rocket League on the PlayStation Blog (oh, shush). The PS4 version, at least, is due in spring 2015.