Rogue Trooper Redux blasts out on October 17th
Bagman, dispense release date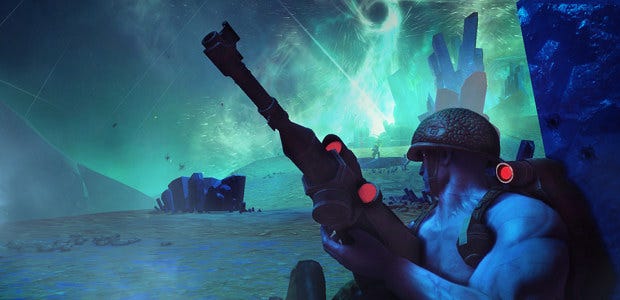 Rebellion today announced that Rogue Trooper Redux [official site], the fancied-up re-release of their perfectly good 7/10 cover shooter, will launch on October 17th. The original still runs on modern system -- and looks pretty good at a 1800p resolution -- but sure, it'll be nice to see the game spruced up a little. Accompanying today's news is a new trailer showing comparisons between the 2006 and 2017 versions and yup, that's a fancier version of Rogue Trooper all right. Have a look:
Rogue Trooper, if you missed it the first time around, is a third-person cover shooter based on the 2000 AD comic strip of the same name. It's about a genetically-engineered soldier fighting in the war for Nu-Earth - a war which has left the planet near-uninhabitable. After his chums are betrayed, he fights across the land littered with waist-high cover, stealthy bits, turret sections, and some fun weapons. Oh, and his dead chums live on as personality chips in his gun, hat, and backpack. It's a comic book adventure bouncing merrily along, fun but not great, a classic 7/10.
Rebellion boast that the Redux packs "HD graphics, remodelled assets, dynamic lighting, enhanced geometry, new special effects," and bits like "modern controls, extra difficulty settings and a revamped cover system."
I do welcome tweaks to the controls and cover. Rogue Trooper came out five months before Gears of War, the game which came to define how third-person cover shooters work, so it was pioneering but not quite as slick. I'd guess that Rebellion are making Rogue more in line with what modern audiences expect - more like Gears, basically.
Rogue Trooper Redux will hit Steam and GOG on October 17th, priced at £19.99/24,99€/$24.99.