Runic To The Hills: Founders Depart Torchlight Developer
Lights out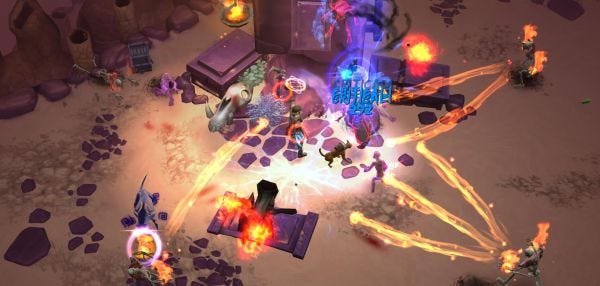 Huh. Well, this is kinda unexpected. Runic, the band of former Diablo devs that produced Torchlight and the especially excellent Torchlight II, have just lost two key members. Founders Travis Baldree and Erich Schaefer are departing the little ARPG studio that could because, er, it apparently grew too large for their tastes. 20 people under one roof? You're practically Ubisoft at that point. For real, though, both Diablo and Torchlight wouldn't exist without these two, so it's pretty wild to see them go. More on that and also Runic's "crazy, cool, completely secret project" in the loot-ridden dungeons below.
Baldree explained why he and Schaefer are off to form their own mysterious cabal in a forum post:
"I'm announcing my departure from Runic Games, a company which I co-founded nearly six years ago, and have led as its President and lead engineer ever since. I should say from the outset that this is an amicable departure, that I consider the amazing team at Runic my friends and family, and that it is a privilege that they've let me get away with running the place for this long."

"Erich Schaefer, my friend and fellow Runic co-founder, will be departing Runic as well as my equal partner. I'm so gratified to be able to continue working with him. I'm personally excited - oh, hell, I'm SUPER-STOKED - to be getting back to smaller-scale development, where I can wear many, many hats performing many, many different kinds of tasks. Working within the boundaries of limited means and resources is the best fun I've ever had, and that sort of work satisfies me in a fundamental way - I can't wait to be working that way again."
Their new company will apparently be called Double Damage Games. No word yet on what sort of game they'll be making, but despite their lineage, I actually doubt it'll be a hack 'n' slash ARPG. The genre is deceptively difficult to spin into gold, and a two-person dev team isn't the best environment for that. But that's just me speculating. I could be entirely wrong.
Runic, meanwhile, plans to embrace change on soldier on without them as it gears up to announce its brand new project that is probably not Torchlight III. Wrote CEO Max Schaefer: "The rest of us here at Runic are excited to move on and continue to work on this crazy, cool, completely secret project we've been working on. We're champing at the bit to talk about it, but will wait until we're ready to show it off. Travis' right-hand man for over ten years, Marsh Lefler, has seamlessly moved into the lead chair at Runic, and after we've sent Travis and Erich off in a bourbon-fueled celebration/wake, you'll find that Marsh is more than capable of taking the reins."
So that's that, then. Hopefully we'll hear more from both Runic and Double Damage soon. Until then, though, who's got some bourbon? I feel like it'd just be rude if we didn't all join the celebration/wake by proxy.