Rusty Lake: Roots Brings Eerie Adventure Puzzling
Grow the family tree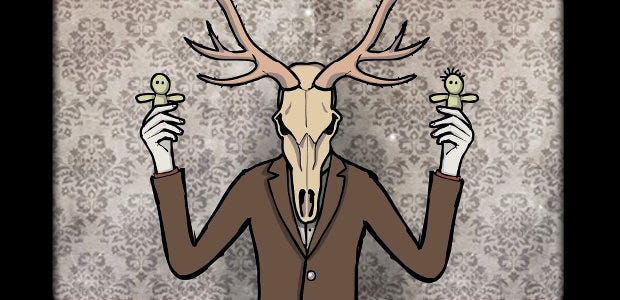 "Our never reviewing the utterly incredible Rusty Lake Hotel is our greatest failing," John declared yesterday after seeing the follow-up Rusty Lake: Roots [official site] hit PC. Hey, don't look at me - I only write news. Speaking of: Rusty Lake: Roots is now out, bringing more slightly eerily adventure-o-puzzling antics. It's exploring one man's family tree, playing through key moments of people's lives, which seems to include more than a few dark secrets.
"James Vanderboom's life drastically changes when he plants a special seed in the garden of the house he has inherited," explain developers Rusty Lake and... hang on. That logo. This isn't going to get a bit Deadly Premonition, is it? Sorry, sorry, I know I've got a problem.
No, James Vanderboom is getting to uncover and build his family tree by playing through the beginnings and ends of people's lives. Given that this here trailer includes a skull-headed stagman, a mask-wearing weirdo, a oujia board, a jarred heart, and what appears to be someone dancing with a corpse, yeah, I'm going to guess it's a strange family tree.
Rusty Lake: Roots is £1.99/2,99€/$2.99 on Steam for Windows and Mac and on Itch too.
Will our second-greatest failing be not reviewing Rusty Lake: Roots? You tell me, John.