Sunday Morning Cartoons: S For Surfing
High-five the moon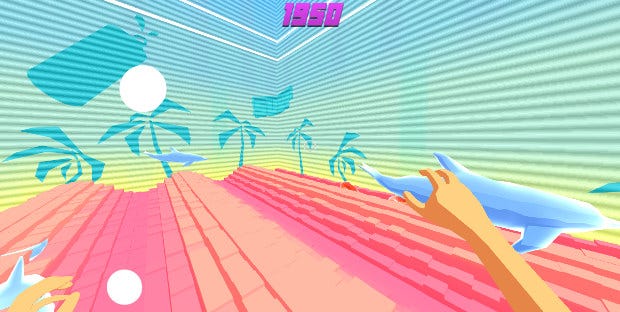 Back in my day, cartoons were slow, drab, and tedious things. Uninteresting stories would span entire seasons, characters would have no redeeming qualities, jokes would fall flat, and that's the way we liked 'em. I pity the youth of today; their entertainment is so fun and colourful they'll never discover the value of boredom. Just look at S for Surfing - a free first-person platformer about riding cubic waves high into the sky, bouncing off dolphins and pulling sikk tricks.
I am thoroughly awful at playing it (with my old, aching hands), so here's a video from the makers:
Sikk tricks indeed. It was made for 7 Day FPS challenge by Lucas Maupin, 'Gama', and 'Yadoob', and isn't just a pretty face. The trick system is good fun once you start to get the hang of it, bouncing from ring to dolphin to blimp to cloud and ultimately high-fiving the moon, spinning and flipping all the while. I'm bad at it, as I say, but I will tell you that using right-clicking to draw bouncy objects towards you is paramount. And press F to play in fullscreen.
If only the colours lacked any vibrancy, the music had more power chords, it weren't so lively, and it wedged in an unending plot. That's what Sunday mornings are for.