Sad Space Party: Spacebase DF-9 Leaves Early Access
Free games for owners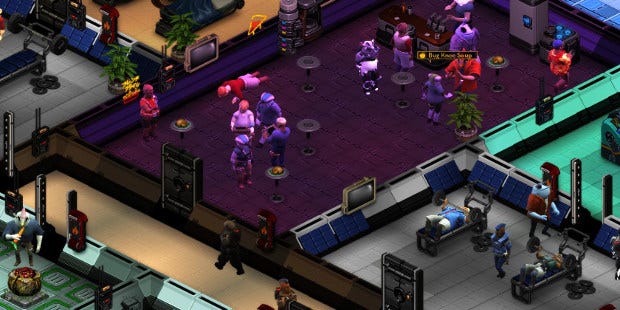 A game's launch is usually such a happy affair, all streamers and balloons and fruit punch and jelly and ice cream and cartwheeling clowns, but it's a little bittersweet for Spacebase DF-9. It's not the game Double Fine wanted it to be, nor the game advertised to Early Access purchasers. DF scaled plans down last month as announced they couldn't afford to keep making the sim space station, and would simply get it to a stable, finished-ish state then release the source code.
Spacebase DF-9 version 1.0 launched this week, also bringing players a virtual party bag containing the source and a free copy of Hack 'n' Slash. HnS owners were given a copy of Spacebase too.
1.0 has brought a new tutorial mode, trackers for persistent goals, a ramping-up of enemy forces towards the end of the game, and lots of little tweaks and bug fixes. Beyond that, they plan to release a patch with important fixes if necessary, but then major development is over to the players. If you've got DF-9 installed, you'll find the Lua source code in the game's directory.
If you still fancy it, a 40% launch discount brings it down to £8.99.
"We wanted to keep working on Spacebase for years. But Spacebase spends more money than it brings in, and that's just not something we can afford to do any more," Double Fine head honcho Tim Schafer said last month. It's understandable but unpleasant.
DF-9 project lead JP LeBreton signed off his blog post on Monday with thanks: "Thank you so much for your support and patience for the past year. We've learned a lot and are proud of what we managed to accomplish, and it's all thanks to your support. And now, we must return to our home planet... hope to see you on worlds beyond!"
Friendly reminder: Early Access games are always a risk. Be sure it's one you're willing to take.