Saints Row: Gat Out Of Hell - Down In The Valley Next Jan
Streetloaf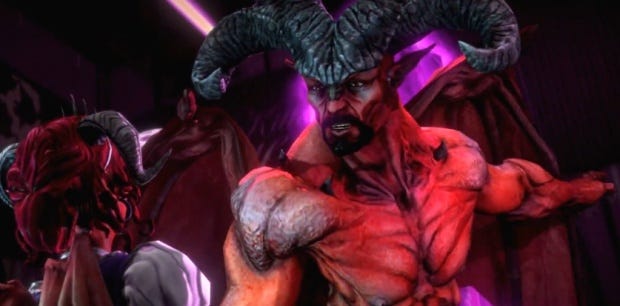 Volition have announced a new entry in the Saints Row franchise, the curiously in-joke entitled, expandalone, Gat Out Of Hell.
After the most ugly of starts, Saints Row has gone on to be one of the series most worthy of excitement in recent years. Saints Row: The Third saw the franchise free itself of its genuinely unpleasant origins, and realise itself as a joy-filled, if somewhat problematic, alternative to GTA, rather than a clumsy clone. Last year's Saints Row IV somehow survived both the collapse of THQ, and the conversion from add-on pack to complete sequel, to become one of the funniest, funnest games ever. So it's with justified happy expectation that we receive the news that there's to be a standalone expansion to part VI, Saints Row: Gat Out Of Hell.
Quite how this fits into the fourth game doesn't appear immediately clear to me right away. Those who saw the ending will know this really ought to be taking place on another planet, rather than, well, Hell. It's also not clear whether this is inside or outside of the alien computer program in which most of IV was set. Although when it features an flying armchair crossed with mounted machine guns, it's hard to get too picky. If this continues on to the same standard as IV, then we're in for a good time, no matter how little sense it makes.
The game is announced for the 27th January next year, although the Walker Constant means it's more likely to be late February. History suggests we'll see a lot of ill-advised and ugly promotional bullshit between now and then, finishing in a game that deserved much better. Let's hope history isn't right this time around.