Samsung 970 Evo review: The best NVMe SSD around
An SSD evolution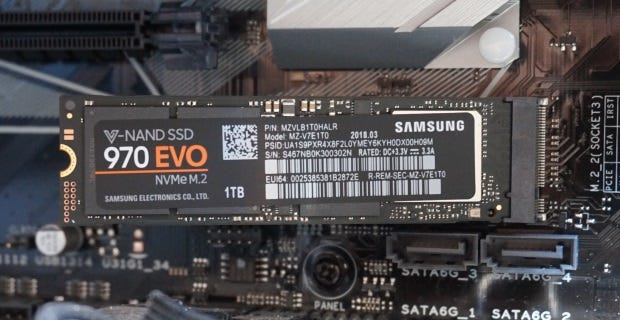 The Samsung 960 Evo and 960 Pro NVMe SSDs feel like they've been around for an absolute age, but when I heard they were getting replaced earlier in the week by a new 970 series as of May 7, it still came as something of a surprise. These new NVMe models are also split into Pro and Evo variants, and today I've got the 1TB version of the 970 Evo. Let's see how it lives up to its predecessor.
Available in four sizes starting at 250GB all the way up to 2TB, the 970 Evo is already a massive improvement over its 960 predecessor before you even take it out of the box. For starters, you get a five-year warranty instead of three, and its endurance rating has been raised exponentially across every capacity, offering between 150 terabytes written (TBW) on the 250GB model and a massive 1200TBW on the 2TB one. Compare that with the 960 Evo's endurance range of 100-400TBW across 250GB-1TB and that's a lot more reassuring for today's would-be NVMe buyers.
That said, Samsung's 970 Evo isn't the only one to offer this kind of peace of mind. Western Digital's Black 3D NVMe SSD, for instance, actually goes a smidge further than Samsung's latest, as this also comes with a five-year warranty and an endurance rating ranging from 200TBW for the entry-level 250GB version (that's 50TB more than the 250GB 970 Evo) up to 600TBW for the 1TB model (the same as the 1TB 970 Evo).
WD's claimed sequential read and write speeds also go toe-to-toe with the 970 Evo, maxing out at 3400MB/s read and 2800MB/s write for its top 1TB model. The top 2TB 970 Evo, by comparison, is rated for 3500MB/s sequential read and 2500MB/s sequential write (although the former drops to 3400MB/s when you opt for the 1TB model on test here).
The race is even tighter in the 250GB and 500GB capacities as well, with Samsung offering 3400MB/s sequential read for both sizes, beating WD's 250GB Black 3D model and matching its 500GB size, but only respective sequential write speeds of 1500MB/s and 2300MB/s, which WD bests with 1600MB/s and 2500MB/s. Here's a graph to make all that a bit clearer:
| | | |
| --- | --- | --- |
| | Samsung 970 Evo | WD Black 3D NVMe SSD |
| 250GB | 3400MB/s read, 1500MB/s write | 3000MB/s read, 1600MB/s write |
| 500GB | 3400MB/s read, 2300MB/s write | 3400MB/s read, 2500MB/s write |
| 1TB | 3400MB/s read, 2500MB/s write | 3400MB/s read, 2800MB/s write |
| 2TB | 3500MB/s read, 2500MB/s write | N/A |
In practice, though, the 970 Evo comes out on top in almost every respect and you can read more about the differences in my WD Black 3D NVMe SSD review. Daily performance was absolutely exceptional, with every task seemingly happening at lightning-fast speeds that I couldn't possibly hope to measure by stop-watch alone.
To help get a more concrete measure of its performance, I turned to the synthetic AS SSD benchmark. Here, it produced a blistering sequential read speed of 2954MB/s and a sequential write speed of just under 2400MB/s. That's a bit lower than quoted, but considering the same test PC (a 3.6GHz Intel Core i5-8600K processor, 16GB of Corsair Vengeance 3000MHz RAM and an Asus Prime Z370-P motherboard) only got around 2500MB/s and 2000MB/s out of the 960 Evo - which is quoted for 3200MB/s sequential read and 1900MB/s sequential write - that's still a significant improvement over the previous model.
At least it is if you're reading and writing blocks of data sitting next to each other, which isn't really that indicative of how SSDs work in real life. Instead, they usually store everything higgledy-piggledy, making Random tests a much more accurate way of figuring out how fast they'll be day-to-day.
In AS SSD's Random 4K test, for example, which reads and writes 1GB's worth of files in tiny 4K chunks all over the SSD, the 970 Evo managed a respectable 56MB/s read speed and 170MB/s write. That's a 20% faster read speed and a 15% faster write speed than the 960 Evo.
Not a huge margin, you might say, but when you compare it what a 2.5in SATA3 SSD is capable of - let's take Samsung's own 860 Evo as an example, which has also been illustrated in the graph above - the difference between each form factor starts to become a lot more obvious, the 970 Evo racing ahead of the 860 Evo by 28% in reading and a massive 42% in writing.
The 970 Evo is eminently much better equipped to deal with workstation-level workloads as well, as its huge result of 2035MB/s read and 2039MB/s write in CrystalDiskMark's Random 4K 8-queue-8-thread test comfortably proves. By comparison, not even Samsung's 960 Pro managed to go above 1700MB/s read and 1450MB/s write in this test, which just goes to show how much more powerful and more efficient Samsung's new Phoenix controller is over the 960's Polaris chip.
All in all, the 970 Evo is a huge leap from both its predecessor and Samsung's top-end 960 Pro, making it one of the best-value NVMe drives the company have ever produced and certainly one of the fastest and best SSDs you can currently buy full-stop.
Even better, prices start from just £100 / $120 for the 250GB model, which is a fraction cheaper than WD's Black 3D NVMe SSD pricing of £110 in the UK and exactly the same as it is in the US. If you're after an NVMe with mad speeds and is actually vaguely affordable (yes, I'm looking at you, 512GB 970 Pro that costs £275 / $330), the 970 Evo is a great pick.