Saturday Night's alright for Nuking. Also, Sunday.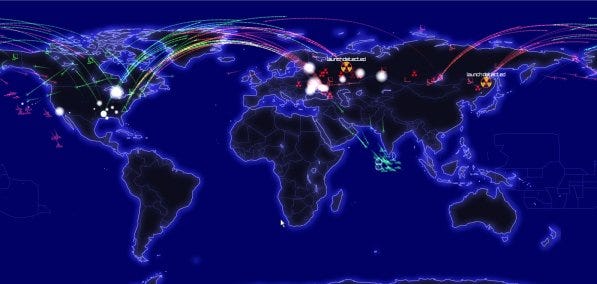 Defcon was one of RPS' favourite games of last year, if only because it gave me another opportunity to stomp Walker, but this time with Nuclear Warheads for a bit of variety. Which makes us happy that Introversion have just announced a free-play weekend to tie in with the Penny Arcade Expo. From 6pm GMT Friday August 24th 18:00 GMT until Monday August 27th 6am, you can lob strategic nuclear weapons around as if they're going out of fashion. Which, hopefully, they are.
While clearly a good thing, it's worth noting that the basic demo which is constantly available does allow you to play online in a multiplayer capacity with the limitations of there being a maximum of two players per game (Which is accurate for world-superpower simulator, but a little limited compared to the full game's six) and only being able to play on Standard mode (And not any of the natty variants, like the everyone-dies-REALLY-QUICKLY Speed Defcon). You can also join any Standard games online, as long as there isn't a demo player already in there.
Which strikes me as a lot of rules to remember, especially for someone hungering to lob nuclear devices towards the horizon, so it may be more sensible to wait until the 24th and have all-gloves-off play of all-gloves-off nuclear war.
There is actually a mac version available to play for the event too, but we're not linking to it due to a moment of childishly petty format bigotry.