Rising Higher: Savant Ascent Has Free Expansion
Ascend into space.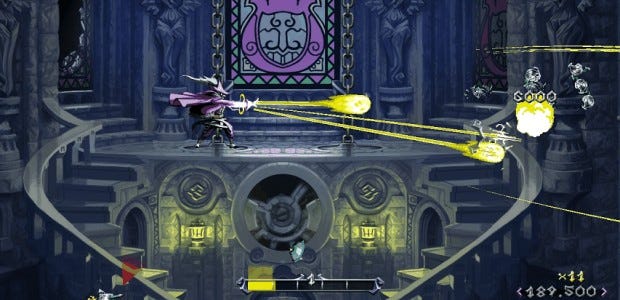 Savant Ascent is a simple game, but it feels so good. Controlling Savant - avatar of Norwegian music producer Aleksander Vinter - you ride higher and higher into a tower, pushing your right analog stick to fire and aim and your left analog stick to dodge and jump between prescribed positions. It was a fun diversion when it was released on Steam last year, and now there's a free expansion called the Void Update.
Here's the trailer:
Released to coincide with Savant's new album, the update introduces a new stage set in space, a new enemy called the Samurai, a new collectible soundtrack and related in-game ability, and a stage select screen so you don't need to play through the whole game again to see the new stuff. There's a list containing a couple of other things I care less about here.
Part of the reason that Savant Ascent looks and feels so good might be that it's made by the same person chiefly responsible for the wonderful-looking Owlboy, which RPS first swooned over in 2010. I hope it comes out one day.