Screenshot Saturday Mondays: cute frogfishing, handcrafted horrors, and cryptid photography
Come admire these interesting and attractive indie games!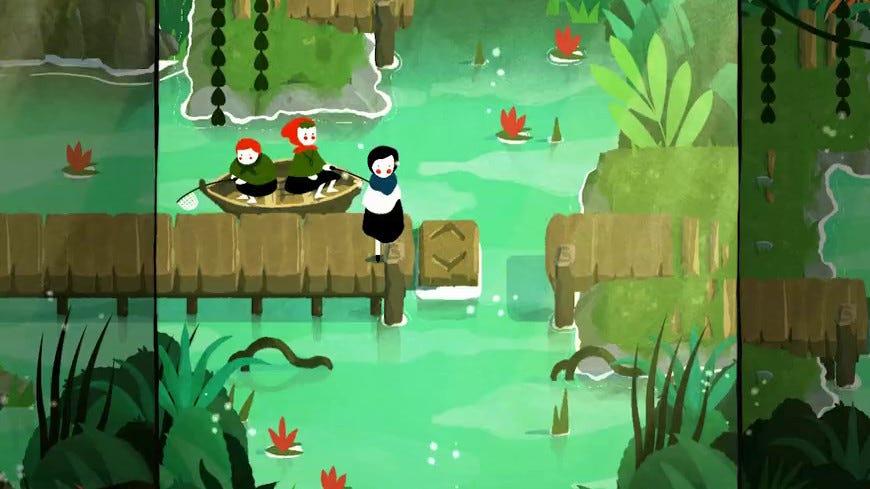 Every weekend, indie devs show off current work on Twitter's #screenshotsaturday tag. And every Monday, I bring you a selection of these snaps and clips. Twitter is still alive, against all odds, so let's admire more indie games. This week, my eye was caught by a cute frogfishing scene, several handcrafted horrors, modular synths, and cryptid photography. Come see!
Good brooding in Far Far Down, a visual novel about daily life aboard a submarine in alt-history 2012:
For this #screenshotsaturday we have Lucy, the beautiful and reserved French stowaway, looking at the recently sprouted seedlings and wondering about herself and the rest of the crew of this nautical #SliceOfLife #VisualNovel.#gamedev #pixelart pic.twitter.com/5xMbxBKXdP

— Far Far Down (@FarFarDown) December 17, 2022
The cutest little swamp in paper-folding puzzle game Paper Trail (coming to Steam, with a demo there now):
These swamp kids just want to catch frogs in peace 🐸🐸🐸#screenshotsaturday pic.twitter.com/7gWBjIanZq

— Paper Trail ✨ Wishlist on Steam! ✨ (@NewfangledGames) December 17, 2022
I wish this retro space immersive sim would get a name, because I'm posting it a lot so a name would be quite convenient. Along with this lovely clean-up clip, the dev also posted a longer gameplay snippet showing immsim stuff like climbing a stack of crates to reach a vent, but cleaning up gore after murder is a far more enticing snippet:
Heads off!💥🙃 A much-needed feature has been added to the game. But if you make a mess, you better clean it up. The smell can attract some unwanted guests you know...#screenshotsaturday #immersivesim #retrofps #lowpoly #indiedev #fps #horror #mothman #scifi #madewithunity pic.twitter.com/xNFapBhzPZ

— Bánk B. Varga (@VargaBank) December 17, 2022
Cute virtual modular synthesiser music-making in Picosynth (out now on Itch):
picoSYNTH is out!
🔌 Connect lo-fi equipment!
🎵 Make funky music!
👂 Share your builds and beats!

Hit RT (🙏), get it from itch, and let me know what you think!https://t.co/oZOTg7LBgN#screenshotSaturday #pixelArt #pixelSound #pico8 pic.twitter.com/b6nygsgY4E

— Johan Peitz - on Patreon! (@johanpeitz) December 17, 2022
Pretty hoverbiking in this "yet to be named open-world action adventure" game:
"It's the kind of wasteland where you can see a mile in any direction, but it's still possible to die on every step"#gamedev #pixelart #screenshotsaturday pic.twitter.com/pfrYX0Ba9C

— Kaldersai (@KaldersaiDev) December 17, 2022
A fun way for new areas to appear in factory-building game Automation Station (coming to Steam):
The progression in Automation Station will be tied to unlocking new islands. Thought it would be cool if the island emerged from the depths.#screenshotsaturday #madewithunity #indiedev pic.twitter.com/SGpdHSWoVn

— Scott Daley (@GravitonPunch) December 17, 2022
A gruesome scene and dev decision in the metroidvania The Spirit Of The Samurai (coming to Steam). And to let you know, no, you don't actually see the cat die in this current clip, though you definitely understand that it is dead:
This #screenshotsaturday i would like you to help me resolve a hard conflict: should I show the death of the kitten? it's in your hands! 😅 #madewithunity #indiedev #atariVCS #Xbox #PlayStation #metroidvania #soulslike #cats pic.twitter.com/NJv68dBffT

— The Spirit of the Samurai (@samuraisgame) December 17, 2022
Speaking of terrible things with handcrafted styles, here's something awful from turn-based horror game It's Dark Inside (coming to Steam):
Now, now...This looks like a deadly situation☠️

~▪️𝕀𝕥'𝕤 𝔻𝕒𝕣𝕜 𝕀𝕟𝕤𝕚𝕕𝕖▪️~

Happy #ScreenshotSaturday! #indiegame/#indiedev/#steam/#pcgames pic.twitter.com/pffxYBM5Rs

— It's Dark Inside | Game 🎮 (@_IDInside) December 17, 2022
Seasonal scenes in open-world detective game Shadows Of Doubt (coming to Steam):
Investigatin' Winter Wonderlands🔍❄️#ScreenshotSaturday #Winter #GameDev pic.twitter.com/LCoSjNb2yW

— Shadows of Doubt: The Detective Simulator🕵️ (@detectivesim) December 17, 2022
Gunpoint-lookin' pogo platforming in the yet-unnamed next game from the maker of Stilt Fella:
Some pogo platforming action for #screenshotsaturday! pic.twitter.com/xhSzQEL2lq

— Henke (@Henrik_Hermans) December 17, 2022
I'm not entirely sure what's happening in triangular real-time strategy game Triverse, but I'm curious:
Added torpedoes to Triverse for taking out large or stationary targets.#screenshotsaturday #indiedev #gamedev pic.twitter.com/aEW3sn2p62

— Ben Carruthers (@bencarru) December 17, 2022
Likewise, I don't entirely understand what's happening in VR-only JRPG Jarpug (in early access on Itch) but I like the look of it:
Combos also change the shape of your traps! That was a pain to implement. Worth it! #screenshotsaturday #gamedev #JARPUG pic.twitter.com/NfGf0bS8FH

— Tyrus Peace (@TyrusPeace) December 17, 2022
I really like the lil guy creeping round barrels in cryptid photography game Project Anomaly: Urban Supernatural Investigator (coming to Steam and Itch.io, with a demo out now):
We haven't announced it yet but we'll be at @MAGFest 2023 under @MIVSMAGFest! Hope to see you in person if you can attend the event! #indiedev #gamedev #screenshotsaturday pic.twitter.com/5ml0zpypPK

— DARK SCIENCE - Project Anomaly 📷👻🔎 🔜MAGFest (@DarkScienceLabs) December 17, 2022
What else caught your eye this weekend, reader dear?