Screenshot Saturday Mondays: Shrimp and a Swiss Army plasma rifle
Admiring more upcoming indie games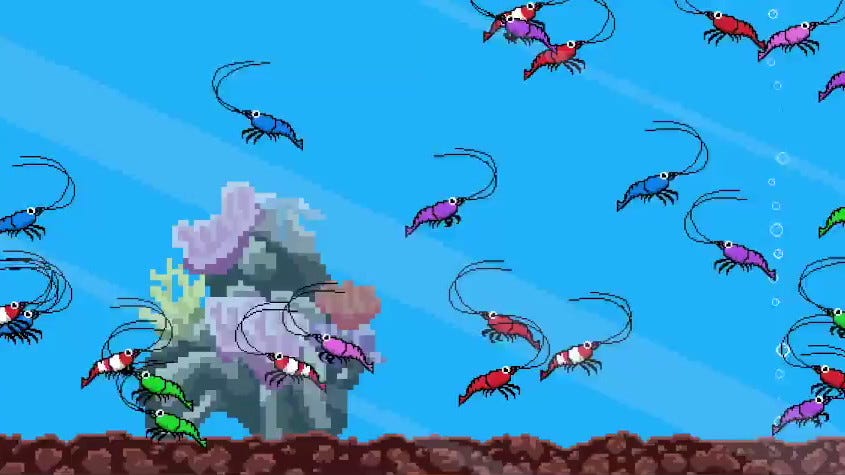 Every weekend, indie devs show off current work on Twitter's #screenshotsaturday tag. And every Monday, I bring you a selection of these snaps and clips. This week, my eye has been caught by a shrimp breeding game, some lovely places to explore, some bleak places to explore, and a plasma rifle with a surprising number of functions.
A perfect existence in slice-of-life game The Garden Path (coming to Steam):
Home Comforts 🏕https://t.co/V1VbXvBBdY | #CozyGame #ScreenshotSaturday 🌿 pic.twitter.com/N2xfCgeM8W

— The Garden Path 🍃 (@fromcarrotcake) September 3, 2022
A veritable Swiss Army plasma gun in Selaco (coming to Steam, with a demo available now), an FPS with traces of immersive sims being made, impressively, in the Doom-based GZDoom engine:
🚨New weapon alert! 🚨

Meet the Plasma Rifle! By far our most complex weapon yet.

- Turn enemies into gibs.
- Overcharge environmental hazards to change or amplify their effects.
- Pick up any object in the game world and turn it into a weapon.

🧵#gzdoom #screenshotsaturday pic.twitter.com/cGwCDVxGtx

— Selaco (Steam Demo now available!) (@SelacoGame) September 3, 2022
I don't know what Precursor is, but I fully believe one of the main reasons to have a fancy modern gaming PC is rendering unnecessarily cool clouds:
Well, except performance cost being insane, it has some potential... #Precursor #Gamedev #indiedev #screenshotsaturday pic.twitter.com/e8Ure7HKl0

— Jan Orszulik (@JanOrszulik) September 3, 2022
I do want to be the boss in V.A Proxy (coming to Steam), a metroidvania which namechecks Nier as an action inspiration:
Spear Grab attack, in case it's not obvious you are the boss fight.#gamedev #indiedev #madewithunity #screenshotsaturday pic.twitter.com/j7n8YatjMW

— Pyro Lith (@LithPyro) September 3, 2022
Certainly a look from The Hungry Fly (coming to Steam), a game about "a fly on a mission to eat a mysterious rotten creature living in a bath":
Screenshot from our newly announced narrative horror game The Hungry Fly. Embody a fly and eat rotting corpses. #Screenshotsaturday #gamedev #indiegame https://t.co/ROzrQnydRL pic.twitter.com/iu8CYf1uCa

— Erupting Avocado - The Repairing Mantis (@EruptingAvocado) September 3, 2022
Bleak big empty spaces and wallrunning? Whatever this is, I'm in:
Who likes wall running?! #ScreenShotSaturday pic.twitter.com/P8YLBcuLPP

— Blindbug Interactive (@BlindbugInt) September 3, 2022
An excessive but interesting experiment in ways to stop your character getting hidden by scenery in Automation Station (coming to Steam):
Experimenting with ways to prevent trees from obstructing the character. This is kinda cool, but a bit much.#screenshotsaturday #madewithunity #indiedev pic.twitter.com/biuTG9Ygkc

— Scott Daley (@GravitonPunch) September 3, 2022
Hot stunts in the yet-untitled plane game from Fat Alien Games, who mention A Short Hike and Castle In The Sky as inspirations:
Loop the loops! 🛩️
#screenshotsaturday #gamedev pic.twitter.com/RTdmYXcsyS

— Fat Alien Cat | Smash Crates! (@FatAlienCat) September 3, 2022
Adventurous boating in Selfloss (coming to Steam):
#UnrealEngine #indiedev #gamedev #lowpoly #fantasy #indiegames #art #Selfloss #boat #screenshotsaturday
When it's dark the sail starts to glow brighter 🌟 pic.twitter.com/zmZDfMZJKI

— Alex Goodwin (@AlexGoodwinDev) September 3, 2022
And because Nate would want me to, here's Shrimp Keeper:
We all have it.

That deep-seated desire to breed the perfect shrimp. Satisfy your urges with #ShrimpKeeper, a management game where you experiment with different shrimp types to breed the rarest, most desired shrimp.

A work in progress!#gamedev #indiegame #screenshotsaturday pic.twitter.com/NGjy2tTAkj

— Jacques Joubert (@jacquesdjoubert) September 3, 2022
What else caught your eye this weekend, reader dear?