Screenshot Saturday Mondays: dual-wielding katanas and duel-wielding fruit
Admiring interesting indie games from Twitter's screenshot celebration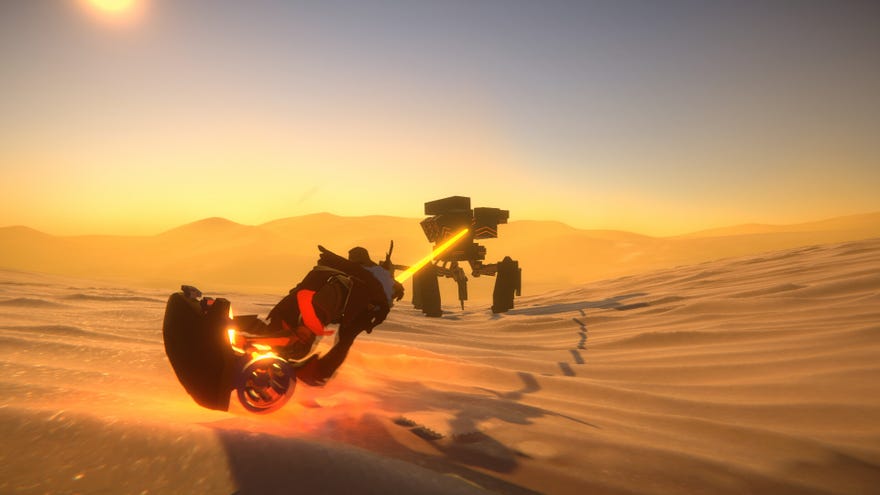 Every weekend, indie devs show off current work on Twitter's #screenshotsaturday tag. And every Monday, I bring you a selection of these snaps and clips. This week, my eye has been caught by a pleasing assortment of zippy and dramatic movements—hoverboards, airdashes, grappling hooks—but also some cute, weird, interesting, and uh I guess hypothetically erotic indies games. Come have a look!
Airdashing through spooky spindly forests looks very much my bag in open-world action-RPG Jumun - Will on the Blade, which is made by a solo developer:
Faster, faster#unrealengine #indiegame #indiedev #gamedev #screenshotsaturday pic.twitter.com/NHeorglTyH

— JUMUN - Will on the Blade (@jumungame) January 14, 2023
Grappling hooks AND hoverboards? I'm feeling spoiled by Withersworn (coming to Steam):
#gamedev #indiedev #screenshotsaturday pic.twitter.com/8sQtzF1aRo

— Asarge (@AndreSargeant) January 14, 2023
RetroSpace (coming to Steam) does indeed have a hallmark of modern immersive sims: electrifying a puddle.
Testing electricity on Aurora 5. ⚡️🪲⚡️
Still seems to work... 😄
Wait for it!
(super early test with obvious placeholder effects, but still looks pretty dope)#screenshotsaturday #immersivesim #indiedev #horror #fps #retrofps #pcgaming #RetroSpace pic.twitter.com/VHUkHtEJ72

— RetroSpace (@RetroSpaceGame) January 14, 2023
I believe I've posted the duelling clip from this yet-unnamed detective game before but oooh look at the rest of this!
Have been working on my detective game for a year now, a quick recap of what I have done so far: dialogue/ investigation system, 3D model iteration, dueling system prototype. #screenshotsaturday #indiegames #IndieGameDev pic.twitter.com/BaTEGCCWUY

— DumplingTurbo (@DumplingTurbo) January 15, 2023
I dig the style of Silent Santicado (coming to Steam):
#SilentSanticado
I was worried that the cave section of Soddenwood Forest wouldn't stand out enough since it just uses existing assets, but I actually really love how it turned out!

Wishlist Silent Santicado on Steam! Link in bio#screenshotsaturday #indiegame pic.twitter.com/WY8217eiYf

— Silent Santicado 🐰 Wishlist Now! 🐰 (@NixPixGames) January 15, 2023
The high-mobility Soulslikelike first-person shooter Enchain (coming to Steam) turned out to be very much not what I expected when I played the Steam Next Fest demo but it is an interesting one, and this is an interesting... chaingun bullet tornado?
giving the chaingun bonus features#indiedev #screenshotsaturday pic.twitter.com/vDRclzuYoz

— matthew | ENCHAIN dev (@mattlawrdev) January 15, 2023
I'm a big fan of this looming:
Made flying things to improve game's atmosphere 🚀#screenshotsaturday | #indiedev | #indiegame | #madewithunity | #gamedev | #horrorgame | #indiehorror | #pixelart | #indiegames pic.twitter.com/EFlL1nSQd7

— Salih "Wolderado" Ünal (@Wolderado) January 13, 2023
How do you feel about this decorative battle going on in the background of your real turn-based battle in Whimsical Heroes (coming to Steam)?
First attempt to create skirmishes in background, to make the whole battle more epic!#screenshotsaturday #madewithunity #madewithspine #2d #indiegame #indiedev pic.twitter.com/BVdXQ0KkxD

— Whimsical Heroes (@WhimsicalHeroes) January 14, 2023
Explore-o-craft-a-survival game Determinant (coming to Steam is a rare thing, a first-person game where you have two working hands and the ability to (gasp!) use both independently, at the same time:
Ambidexterity allows for both hands to use items. Now you can eat twice as fast! Controls now similar to Minecraft, left button attack, right button use. #determinant #screenshotsaturday #indiegamedev #gamedev #gamedevelopment pic.twitter.com/Xjel1Fb96U

— Khor Chin Heong (@koochy_rat) January 14, 2023
I don't know what the game is, but this really makes me think of Realms Of The Haunting?
the bathroom is still very much WIP but it got a cosy bathtub today :)#screenshotsaturday pic.twitter.com/cxyZhZ3TtS

— Ancient Pixel🤺@life (@AncientPixel_AP) January 14, 2023
A little bit of supernatural skeet shooting in The Black Labyrinth (coming to Steam), the upcoming expansion for Amid Evil:
Catching enemies in mid-air has become a favorite pass-time while testing maps for The Black Labyrinth.

Wishlist on Steam:https://t.co/1FfWx2usDm#Screenshotsaturday pic.twitter.com/2D4v6hwGuf

— Wishlist The Black Labyrinth (@Indefatigable) January 15, 2023
Downright obscene interplanetary imagery (?) in Un Regard Froid - Exophilie:
Un Regard Froid - Exophilie
Coming soon#screenshotsaturday #madeinunity #indiegame #bodyhorror #alienfetish pic.twitter.com/plosYP91Ow

— Frédérick Maheux (@FrederickMaheux) January 14, 2023
A grim gameshow in a prequel-o-demo for Strain (coming to Steam), an apocalyptic survival game which makes me think of a more survival-y Fallout 4?
STRAIN: The Undoing, a prequel and demo for STRAIN will be coming out very soon! Stay tuned!#indiegame #indiedev #gamedev #screenshotsaturday pic.twitter.com/cuArEH4HMk

— Lana Lux (making STRAIN) (@WTFLanaLux) January 14, 2023
Ooh I do like a good marble run! A fun idea for a chill building game, with potential for great noises:
chill while building marble runs#UnrealEngine5 @UnrealEngine #gamedev #screenshotsaturday #IndieGameDev #marblemachine #marblerun pic.twitter.com/8BN08qG9p4

— Mikołaj Bazaczek (@aerloth) January 14, 2023
More stylish violence from Mortal Sin (coming to Steam):
Spent a bajillion hours on this but now I can confidently say that two swords are indeed better than one⚔️#screenshotsaturday #gamedev #unity3d #mortalsin pic.twitter.com/bw79cPgr7N

— Nikola Todorovic (@sonofslobodan) January 14, 2023
And lets close with a wee bug which I feel borders on being a feature:
When you fail to restrict the player options.

🤣#screenshotsaturday #swissgames #indiegame #RPG #indiegamedev #fail pic.twitter.com/vE2HiIR58x

— Twisted BrainZ (@TwistdBrainZ) January 14, 2023
What else caught your eye this weekend, reader dear?