Survival sandbox Scum adds rude gestures, cave networks and human skin masks
I HAVE THE SHINIEST MEAT BICYCLE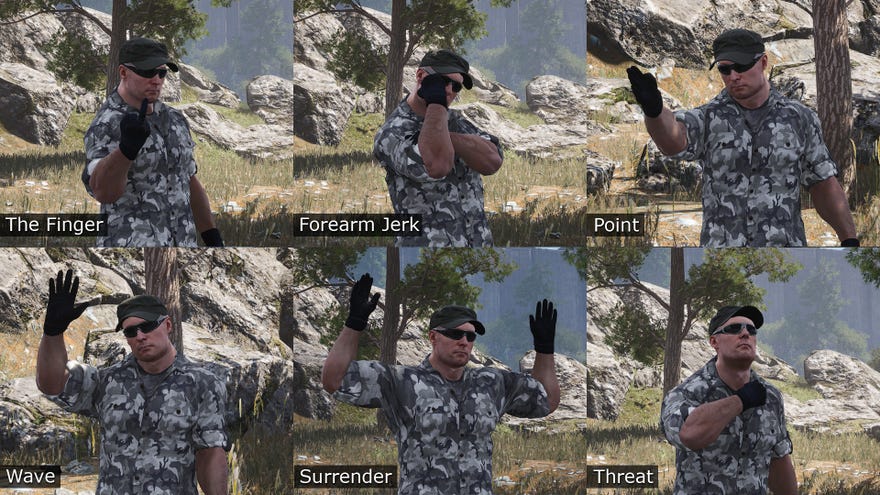 Scum may be detailed enough to let you urinate or even defecate on your foes, but that requires you to be up close. A raised middle finger? Well, that's your new ranged option for offensive offending. In today's early access update, prisoners attempting to survive the zombie and robot-infested hell that is Gamepires's Scum have a few new options. These include hiding in caves, making rude gestures at people, crafting improvised firearms and (if they push you just that bit too far) skinning your foes and wearing them on your face. Lovely. Check out the patch notes here.
Released a month ago to surprising success (despite initial teething troubles), I figured Scum's hyper-realistic health system would put off casual players. Instead the DayZ-like survival sim almost immediately became Devolver's biggest seller to date, according to Gamasutra. While interest has died down a little, it still remains a very popular sandbox which Fraser found strange appeal in during his early peek. Today's update adds some interesting new options, including the option to craft primitive single-shot .50 AE pistols and 12-gauge shotguns using the Basic Survival skill.
Other additions this patch are night-vision goggles, which can be found in well guarded military zones. If you're willing to brave the patrolling guard robots, you can make travelling at night a lot safer. The map has also been updated with thirty new cave locations, which offer good protection from both the elements and incoming fire. On the grisly front there's the human-flesh mask above, plus they've added "suicide animations" for players who have had enough and want to log out forcefully.
The rest of the patch notes are focused on quality-of-life tweaks and optimisation. Several major locations have had additional level-of-detail meshes added, so your PC isn't trying to render extra buildings that you can only see if you squint and mash your face against your monitor. The bullet-crafting skill has been moved to the Survival tree, and basic rounds (such as those used by the improvised pistol) are easier to craft. Heatstroke can now also induce comas, but on the bright side, you can now cool yourself off by undressing, if you're still looking for an excuse to get naked.
Scum is in early access, and available on Steam and Humble for £15.49/€16.79/$19.99. You can see today's update notes here.