Sea Of Thieves content updates starts in May with The Hungering Deep
The Hungering Deep doesn't sound friendly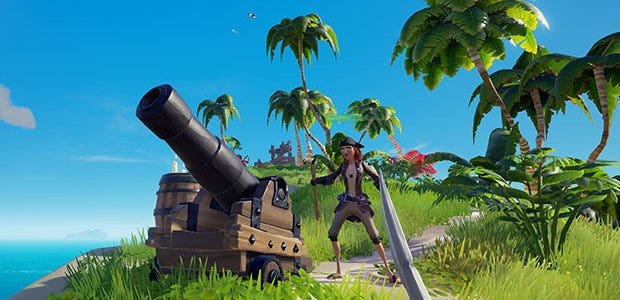 "I've enjoyed the ambience of Sea Of Thieves so much that I want it to be something that stays in my life for a long time to come, but, in its current state, I know that is impossible," our Alec said in his Sea Of Thieves review. "There is a platform for wonderful things here, but if Rare don't build new things atop it PDQ, it will soon crumble forever."
Those new things will start arriving in May, developers Rare have announced, with an update they're calling The Hungering Deep. It'll add a new NPC threat to the world and, going by that name, I'm guessing it's a nasty one.
Rare are pretty vague about exactly what The Hungering Deep will add and what this new "AI threat" is, but... new things?
"Crews will have to work together to discover and defeat this threat as part of a unique event," Rare explained in Friday's dev blog post. "We will also be introducing a number of new mechanics to assist players on this adventure, and there will be unique rewards that players can earn as part of this event."
May will also see the launch of their weekly events programme, with "new mechanics" and "fun new ways to play" plus new rewards.
After this, Rare plan to introduce a new ship type with the Cursed Sails update and a new area of the world in the Forsaken Shores update. Those are due to launch some time this summer, also bringing new things to play with.
Rare also say that they're pushing back Pets and Ship Captaincy, two features they had say they'd like to do after launch but now recognise, "based on feedback", are lower priority than bigger additions. Sounds sensible, because the game is woefully hollow. Pets are a feature that would improve the game's nice moments of cruising around, but the game does need a whole lot more to do.