Sean Bean Is Aboard Train Simulator 2014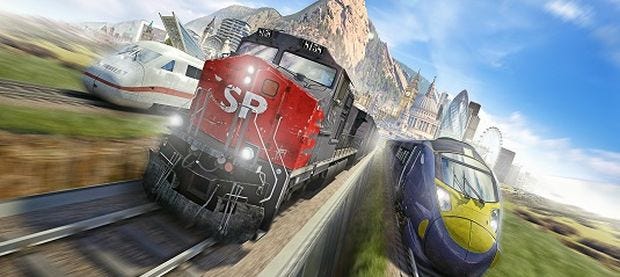 Sean "Eddard Stark of Winterfell, Richard Sharpe, Emperor Martin Septim, Boromir, Alec Trevelyan" Bean wants you to be as excited about Train Simulator 2014 as he is. Are you one of the "many" train fans he he speaks of?

Testify, Sean.
Now you're either tooting the USB steam whistle that your gran bought you for Christmas, or you're a little bit baffled. There is no middle line when it come to train simulators. But is Sean's flowery language and forthright train love justified? Just what is it about September 26th's 2013 release of TS2014 that's gotten him so wobbly lipped? As my girlfriend likes to point out, I'm no Tim Stone, but I've dug up a few interesting upgrades that are heading down the track.
Alongside the graphical bump you expect from yearly updates, TS2014 is going to simplify the front-end to give new players an easier route into playing with the giant train set. Quick Drive will allow you to combine routes and trains more easily, so you're never far from the driver's seat. Those who want to get deeper into it will be rewarded with XP and skill bumps in the career mode.
But it's the editor that holds the most potential: Train Sim's DLC packs are legendarily numerous, and the cost of owning all the official content is huge. Steam Workshop integration should help people boost the track content without worrying about their wallets. More here.