Season's Bleatings: Borderlands 2 DLC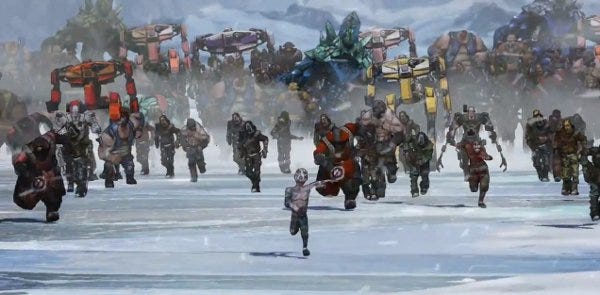 I've barely begun to scratch the surface of Pandora and I'll never actually shoot the handsome off Handsome Jack's face. I like finding weird guns but actually shooting my way through the missions feels like sticking my head into a beehive. BUZZ BUZZ BUZZZZ, go the bees, and even if I manage to eat some honey while my face is being perforated, I'm still going to have a headache afterwards and there are a lot of dead bees piling up around my chin. I certainly don't feel the need for more Borderlands 2, but for those who do there's that Season Pass. Four episodes of new content for £19.99. And there will also be new characters and vehicles to buy. Those won't be included with the pass.
Talking to Kotaku, Randy Pitchford spoke about the season pass content: "The stuff we're planning and working on for the Campaign DLC Season Pass is big DLC stuff - more like Knoxx...We're extremely far along with the first campaign DLC. The second DLC is also in amazing shape. The third DLC is a little farther out and the fourth DLC is just in the pre-concept stages."
The Mechromancer will be the first piece of paid DLC, arriving October 16 for $10, although the character was included with pre-orders. In a game that already contains so much, is it necessary to have more? If I was enamoured with the hyperactive world, I might feel aggrieved that all of the extras might well end up costing more than the base game, but as it is I reckon adding more anything to Borderlands 2 would be like chucking a stick of dynamite into a supernova. Ignore the dimestore dynamite if it rankles you and just watch worlds burn. If you bought Borderlands 2, you've already paid for that privilege. I'd maybe pay 50p to have a little less of everything, but then I am an ageing Englishman who has developed a quietly contemplative turn-based process for the eating of scones.
Borderlands 2 has been quite the success in its first week on sale, topping the multiformat charts. According to ChartTrack, the PC version alone outsold the 360's professionally evolved foot-to-ball simulator.