Second Wave: Defender's Quest Free Gold Update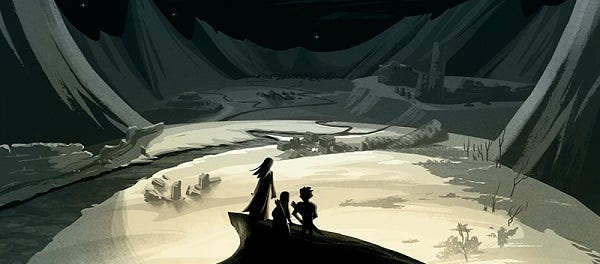 It's all go in the free update business. First The Witcher 2, and now Defender's Quest, the wonderful indie RPG squad-based tower defense game from Fortress of Doors we've covered in the past. Like Geralt, it'll soon be receiving a totally free Gold update in the near future. These guys have always been keen to offer support befitting of a PC release, and this new update sounds like a meaty serving, starting off with a lovely new art style courtesy of Karen Petrasko and running the gamut through new features, enemies, side quests and replayability in the form of a hugely expanded New Game Plus option.
I'm most excited about New Game+ as my high level team is routinely stomping all over even the highest difficulty level bosses. It doesn't sound like an easy ride for much longer, as in a recent blog update, developer Lars Doucet promises a raised level cap to deal with new enemy monster types wielding different abilities who'll appear during the second playthrough as well as unique side quests that change up the formula. He mentions tower restrictions as an example, and the few levels that forced you to change tactics in the original game highlighted the need for innovative thinking to overcome the odds. I just hope to make enough money this time round to buy Slak that epic sword he's always had his eye on.
I really enjoyed Defender's Quest and the enigmatic Mr Smith did too. It delivered a highly customisable tower defense experience carried by a plot that actually gave strong motivation to carry onto the next battle populated by characters easy to care about, while always managing to retain a strong sense of humour about itself. It's a great little game, so if you're at all interested in Tower Defense and you haven't yet already, give it a go. At least pick it up before the Gold edition hits and you'll have all that tasty content for free. The substantial demo is hosted on their site if you'd like to have a try.
Follow the development over on the Fortress of Doors blog.