Secrets Of Brink Revealed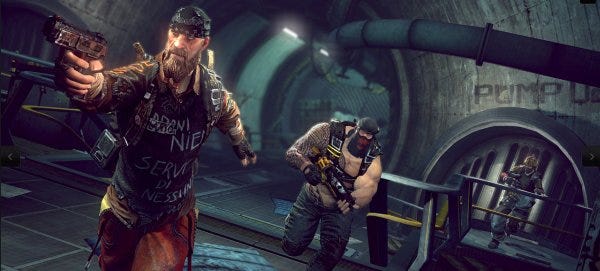 Sometimes we're guilty of fire and forget posting of trailers - showing you a pretty video then buggering off without much else said about it. Not this time! For the latest video from Splash Damage's upcoming (and very promising) shooty death game Brink, I've taken the liberty of a near second-by-second commentary upon what it's showing. In it, I uncover incredible secrets and reveal an unprecedented degree of insight into the game.
You'll see.
0m01s - We're not children so that's ok!
0m09s - Man!
0m12s - Gun!
0m14s - Man with gun!
0m16s - Man with gun!
0m17s - Gun!
0m18s - Man with gun!
0m20s - Gun!
0m21s - Man with gun!
Om22s - Gun!
0m24s - Man with enormous gun!
0m25s - Gun!
0m27s- Enormous gun!
0m29s - Exploding gun!
0m30s -TANK TANK TANK TANK TANK TANK TANK
0m31s - Many guns!
0m33s - Big man with gun!
0m35s - Red-handed man with gun!
0m36s - Blackness. So black. So very black. Blaaaaaaaaaaaaaaaaaaaaaaaack.
0m37s - Men!
0m38s - Exploding man!
0m40s - Creepy hooded man with gun!
0m43s - TANK TANK TANK TANK TANK TANK TANK
0m45s - Men, guns, men, guns, men, guns!
0m48s - Biff!
0m50s - Men!
0m52s - Guns!
0m54s - Enormous man with enormous gun!
0m56s - Man with exploding groin!
0m57s - Tiny man!
1m00 - Man falling onto men!
1m02 - Massive bloody rocket!
1m05- EXPLODEYDENDRON
1m06 - Logo! With what looks like a bishop's hat at the end!
1m10s - Lots of logos! We only care about the one that says 'Windows!'
In conclusion, Brink is secretly a game about men and guns. And jolly spectacular it seems too. Can this be released now please? We all had an excellent time with at the EG Expo last year - this is a prime candidate for RPS Game Club if ever there was one.