Seize A Saladin: Stronghold Crusader 2
Castle smashers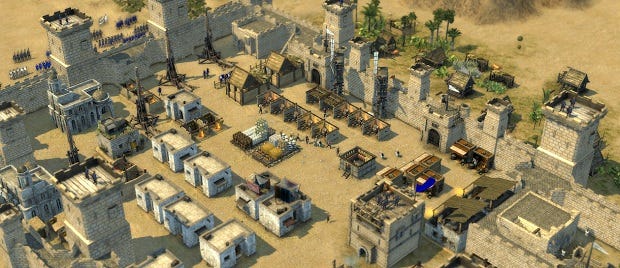 Stronghold Crusader 2 skips away from the muddy fields of Wales (I assume most castles are in Wales because I saw one there as a child), returning to the dust and deserts of the Holy Land (not to imply that Wales is the Unholy Land). I think of the first Crusader spin-off as being a more traditional RTS within the Stronghold mould and what I've seen of the sequel backs that up. The main difference between this and the first may well be the actual castle construction, which looks like it'll allow some creative thinking. Slightly dodgy voiceovers aside, the latest trailer has some appeal and the new details on the skirmish mode suggest it'll be easy to escape the constraints of the campaign.
Here's the latest on skirmishing:
Crusader 2 will feature a full skirmish mode at launch. This includes eight AI characters and the ability to take your castle siege online, which extends to eight players and the option to play in teams or co-op. It simply wouldn't be a Crusader game without a skirmish mode and the kind of replayability that offers. This is what we intended to deliver from day one and it's fundamental to the game's design.

Our new AI character reveal should also make Crusader 1 fans very happy. Saladin is a classic character returning from the original game, who led his armies against Richard the Lionheart in the Third Crusade. He is at his core a kind hearted person, but on the battlefield he is a fierce warrior fighting for the freedom of his people.
While I enjoy watching walls crumble like biscuits in a lovely mug of tea, I still hope there'll be an effective follow-up in the main series one day. I have many happy and peaceful memories of time spent planning the perfect walled settlement in Stronghold 2. Maybe Banished 2 will incorporate stonking great castles. Mmmmm.