Serious Sam Engine Is Now Open Source
You can be serious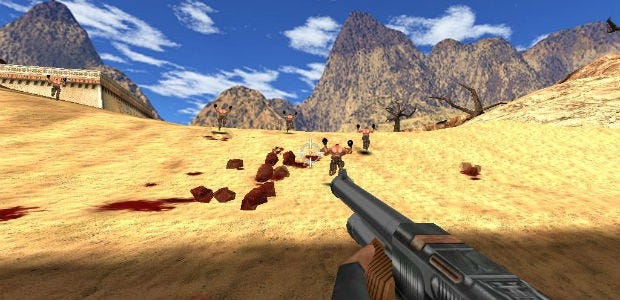 Believe it or not, this month sees Croteam's Serious Sam [official site] series celebrate its 15-year anniversary. If, like me, that realisation makes you incredibly feel old, the Croatian developers have just the thing to perk you/us up: they've released the engine that powered Sam "Serious" Stone's first and second outings at the turn of the millennium free-of-charge.
Yup, the Serious Engine v1.10 - that's the one responsible for 2001's Serious Sam: The First Encounter, and its originally-named 2002 sequel, The Second Encounter - has now been open-sourced, meaning you can set about crafting your own creations within its blocky, low poly bounds. Having prepared this version of the engine for release, Croteam's Vyacheslav Nikitenko had this to say:
Historically, this version of Serious Engine is very important for Croteam and for me personally. I created several mods for Serious Sam back in the day, before even starting the work on the source code, and it was a great tool for learning.

And it's even better today! Obviously, Serious Engine v1.10 won't produce top-notch graphics, but the source code is very well commented, easy to modify, and there are lots of user generated mods out there. This version has everything you need to build your own game – or just experiment.
Croteam, you may be aware, are also the guys behind 2014's wonderful puzzle 'em up The Talos Principle - a fact I still struggle to get my head around, given how different Sam's outings are compared to the latter's deep philosophical groundings. Towards the end of last year, though, Croteam announced they'd enlisted the services of Talos writer Jonas Kyratzes for the still-happening-albeit-long-delayed Serious Sam 4. Perhaps this means we can expect and even serious-er Sam in his next venture?
Anyway, if you fancy messing around with the Serious Engine v1.10 in the meantime, Croteam have posted it on Github.