Shadow of the Tomb Raider springs quite a few leaks
Ixnay on the Ombtay Aiderray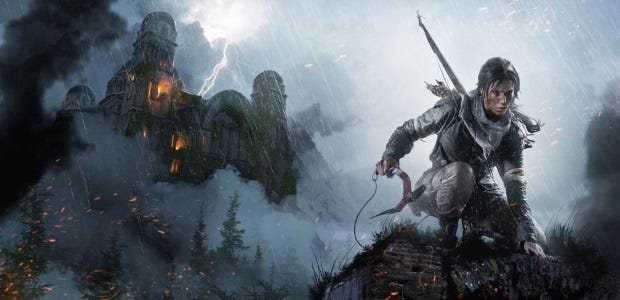 Update: Big surprise! It's finally now official.
Now, keep this between us - quiet, alright? Just between you and me, I think there might be a new Tomb Raider game in the works. I also think that it might be called Shadow of the Tomb Raider, and that it might be released this September, and that it'll feature scenes a lot like the completely-unrelated-we-assure-you image you see above.
I have all these wild hunches because Square Enix's PR seems to have sprung all of the leaks, spilling juicy game info all over the place up to and including shakey-cam footage of the teaser trailer, along with the release date. So much for a dramatic reveal, eh?
The latest and most amusing of all these revelations comes direct from the official Tomb Raider website, which currently teases an official release of information planned for sometime tomorrow afternoon. Unfortunately, a quick peek at the source-code of the page (only a right-click away in Chrome) reveals significantly more detail, including the exact day of launch, along with a mention that this is to be the end of Lara's 'origin story' trilogy of games.
This isn't the first case that information has leaked out, either. We technically knew this title a long while ago - back in 2016, even (thanks to Kotaku) - after someone spied a developer's laptop with confidential materials on screen during a subway commute. Oops.
Hawk-eyed Twitter gremlin @Nibellion even managed to dig up some video footage from a pre-announcement press event in Montreal, as well as his thoughts on this cavalcade of leakiness:
...so the teaser trailer for Shadow Of The Tomb Raider just leaked as wellhttps://t.co/QFDai95JMU pic.twitter.com/KGnJ5mqxYI

— Nibel (@Nibellion) March 14, 2018
The only real surprise here, if you can even call it that, is that Crystal Dynamics - developers of the previous two Tomb Raider games - aren't handling development of this one. Instead, Eidos Montreal (creators of the New Deus Ex games) are heading up the project, but so long as they just continue aping the Uncharted series, there's not much you can do wrong with the design of a game like this.
Shadow of the Tomb Raider will be launching on September 14th, but don't tell them that you saw it here, okay?